Vaccination Required
Heartless Bastards
Fri,
Nov 5
Doors:

8:30 pm
|
Show:

9:00 pm
Tickets: $30.00
Ages 21 and Up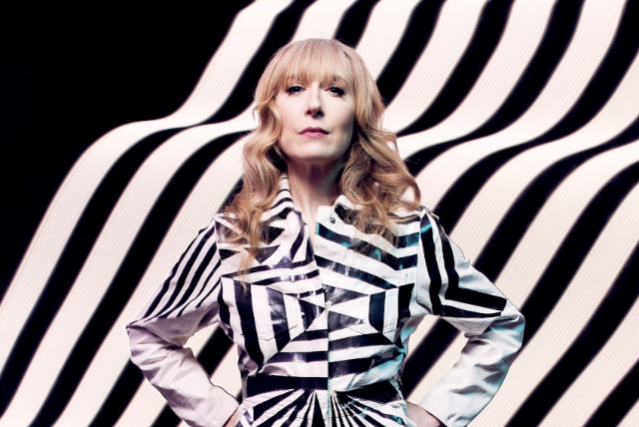 Another Planet Entertainment and The Independent are committed to producing safe events. The City and County of San Francisco has mandated all patrons attending events at The Independent on or after 9/15 are required to show proof of full vaccination (must be 2 weeks past final dose). Masks are also required. For more information, visit our Health & Safety page.
* Policy is subject to change
Artists
Heartless Bastards
On the new album A Beautiful Life, Heartless Bastards share a wide-eyed and radiant vision for harmonizing a broken world. The Ohio-bred and Texas-transplanted band's first new music since 2015's Restless Ones, A Beautiful Life affirms frontwoman Erika Wennerstrom as a songwriter with the power to profoundly influence our state of mind, often by alchemizing her idealism into viscerally potent rock-and-roll songs. With its delicate coalescence of so many eclectic touchstones—French pop and Celtic folk, space rock and symphonic pop, Disney scores and post-punk—the result is an album that immediately lures the listener into a more receptive mindset, one that leads to deeper generosity, greater compassion, and a restored sense of possibility.

Co-produced by Wennerstrom and Kevin Ratterman (Strand Of Oaks, Jim James, White Reaper), A Beautiful Life finds Wennerstrom joining forces with the likes of guitarist Lauren Gurgiolo (Okkervil River), drummer Greggory Clifford (White Denim), multi-instrumentalist Jesse Chandler (Mercury Rev, Midlake), keyboardist Bo Koster (My Morning Jacket), guitarist David Pulkingham (Patty Griffin), and longtime Heartless Bastards bassist Jesse Ebaugh. Although she debated releasing A Beautiful Life as a solo effort (as with 2018's Sweet Unknown), the Austin-based singer/songwriter ultimately conceived the album as a continuation of the journey begun on the band's breathlessly acclaimed 2005 debut Stairs and Elevators. "I loved the last iteration of Heartless Bastards so much—they're like family—but the stars weren't aligning for us to reconvene on this record," says Wennerstrom. "As the record came together I realized it's always been my project, and I was determined to continue forth with that. I had so much faith in these songs and in myself, and in many ways it feels like a rebirth."

Like many timeless songwriters before her, Wennerstrom channels her nuanced observation of the outside world into music that incites contemplation, catharsis, and a joyful sense of defiance. "It's so easy to get caught up in the material goals that are prioritized by our society and the every-man-for-himself mentality of late-stage capitalism," Wennerstrom says of the album's central themes. "That way of thinking presents a false idea of what a beautiful life is, and I think it's so important that we as individuals all ask ourselves what it truly means to have a beautiful life."

Throughout A Beautiful Life, Heartless Bastards guide their audience through an unhurried pondering of that very question, an exploration that begins with the soulfully expressed frustration of songs like "How Low." "It's becoming harder and harder to choose a simple life; so many people struggle to get ahead so they don't get left behind," says Wennerstrom, who names the Jackson 5 as a key inspiration for the track's jangly R&B grooves. "I believe that a truly elevated, conscious society is one that seeks to lift each other up—one where we work for the common good." On "You Never Know," the band brings in elements of Brazilian bossa nova and yé-yé, arriving at a sweetly spirited anthem against jadedness. "As we get older and experience the pain of certain plans not working out, we can build up walls to protect ourselves," Wennerstrom says. "This song is a reminder to stay open, stay present, and keep taking chances."

One of the most hypnotic moments on A Beautiful Life, "Photograph" unfolds as a sprawling psych-rock epic, speaking to the urgency of unconditional compassion. "There's an extreme divide that's developed in our society, but underneath it all I think we all want the same things," says Wennerstrom. "One of the biggest challenges I've dealt with is learning that I can't control the energy that comes at me, but I can control my reaction, and try to take a compassionate approach with everyone." And on "Went Around The World," Heartless Bastards elegantly merge hip-hop beats and high-drama strings in a mesmerizing meditation on the inherent connectedness of all life. "I've toured for years and backpacked around in my off time, and through experiencing new situations I've gotten to know parts of myself I'd never known," says Wennerstrom. "It's reinforced for me that it doesn't matter what our race or religion is, or whether we're male or female, straight or LGBTQ—we're all connected to each other, and to the planet that sustains us. It's all family."

In the making of Heartless Bastards' most elaborately realized body of work to date, Wennerstrom immersed herself in a highly experimental process that sometimes involved breathing new life into song fragments she'd first created decades ago. "There are little pieces of songs that I've had in my head for 20 years, and that finally found their place on this album," she notes. As she dreamed up A Beautiful Life's finely detailed yet free-flowing sound, Wennerstrom repeatedly wandered down what she lovingly refers to as rabbit tunnels. "I call them tunnels instead of rabbit holes, because they take me somewhere instead of leaving me stuck," she says. "I allowed myself to really feel my way through things, trusting that I was going to get to where we needed to go. I never abandoned my vision, and because of that the album became everything I hoped it would be and then some."

After recording some of the basic tracking for A Beautiful Life with Danny Reisch in Austin, Wennerstrom headed to Ratterman's Invisible Creature studio in Los Angeles, assembling such singular musicians as Andrew Bird and Persian setar virtuoso Fared Shafinury (both of whom contributed to the wildly rambling folk of "The River"). "I made sure to pick people whose style I knew would be a perfect fit for these songs—that way I could tell them, 'Hey, I just want you to be you,'" she says. As the album took shape, Wennerstrom and her collaborators discovered an undeniable chemistry that led her to invite Clifford and guitarist Gurgiolo into the lineup for Heartless Bastards' upcoming live shows, marking the start of an exciting new era for the band.

For the final track to A Beautiful Life, Heartless Bastards chose a slow-burning piece called "The Thinker," a gently galvanizing plea to "see the beauty in everything." "There's a line in that song that sums up the whole album for me: 'I did it all for love and I'd do it again,'" says Wennerstrom. "For me music is a gift—I do it because I love it, and because it helps me feel more connected to the world. I think we all long for a deep connection, and I hope this record adds to the conversation on how we as a species can stop seeing ourselves as separate. I hope it helps everyone to think about how we can look out for each other, take care of each other, and lift each other up."


Valley Queen
Natalie Carol (vocals/guitar) – Neil Wogensen (bass/vocals) – Shawn Morones (guitar/vocals) – Mike DeLuccia (drums)
The full-length debut from Los Angeles-based band Valley Queen, Supergiant takes its title from the most massive and luminous yet fastest-burning stars in the universe. "The song 'Supergiant' is about how we're all made up of the same stuff as stars, and I liked the idea of tying the whole album together with that metaphor," says Carol. "It takes all the drama you hear on the record—the aggressive, chaotic moments, and the more beautiful or quieter moments—and puts it all into a more galactic perspective."
With the album finished and ready to be released into the world, it's now easier for Carol to take a step back and be philosophical but there were moments when it almost seemed like Supergiant would never come to light.
The first iteration of Valley Queen formed not long after Carol moved to L.A. and crossed paths with Neil Wogensen through the local music scene. With Shawn Morones and drummer Gerry Doot later joining the lineup, the band named themselves Valley Queen in a nod to the region where ancient Egyptians buried their deceased matriarchs. They released the singles "In My Place" and "High Expectations," as well as 2017 EP Destroyer to widespread critical acclaim. The band also supported artists including Laura Marling and Thao & the Get Down Stay Down on tour. Musically and creatively, they were in a place they never dreamed of.
As the band's profile grew, so did days on the road and time spent away from home. Any touring band will testify to the intensity of togetherness, tight finances, being away from significant others, physical exhaustion, unhealthy diets and habits, etc., but they were doing what they loved and it was resonating with people. The band had found their own magical pocket musically but, ultimately, the strain was too much for Morones and Doot who left the band after years on the road. They were replaced with session musicians and the band continued to win fans and play bigger rooms, but the chemistry that Carol had come to depend on was gone.
The growing success earned them a record deal—a dream finally coming to fruition—but Carol was unable to find the creative cohesiveness she knew she needed to make the record. "I wondered how to record the record. I believed in myself but I had also believed in the people around me. I write these songs in solitude but Valley Queen is not my solo project. I thrived in the collaboration. I came back from these new tours feeling creatively depleted, like something important was missing."
Carol knew ultimately what needed to happen. Like a parent knowing what's best for their child, she understood that Valley Queen was more than lyrics and sessions musicians. It was about people, chemistry and the relationships that created such a powerful musical force to begin with.
"I knew nobody else could record this record with me but our original line up. They had grown into the arrangements, had a personal understanding of what the songs were about." Doot couldn't rejoin—the strain touring had put on his newborn baby and wife was too much for him to reconsider—and Mike DeLuccia came forward, which was a godsend. Then Carol called Morones. The time on the road had strained their relationship significantly and there was healing that needed to happen. After long discussions and sharing, they all decided it would be worth the risk to try to create this album and tell the story of what had happened. Two months later, Valley Queen was in the studio.
Carol reflects, "Recording the album was a transformative experience for the band. It certainly trod the ground of the past, the difficulty and disappointment we had faced. But moving through and completing the project brought with it a sensation that the chapter was over. All of us will always be in process, we will always be learning how to better work with each other and ourselves. But a power was created in actively choosing to meet with that process."
The result is Supergiant, produced by Lewis Pesacov (Best Coast, Fool's Gold, Nikki Lane, FIDLAR). Not surprisingly, the album emerges with raw production and relentless intensity. It's a record that could not have been made any other way, each member bringing their own creative force and energy to every song. It's about self-exploration, not just as an individual, but also as a collective whole.
"It can be really painful and isolating to go through something that doesn't really look like anybody else's experience but your own," Carol says in reflecting on Supergiant's intensity. "But ultimately that's part of the beautiful orchestration of being alive—instead of trying to go around that experience, you need to go fully into it. I think that's the only way to get a deeper understanding of who we really are."