Vaccination or Negative COVID-19 Test Required
King Dream | Goodnight, Texas
Fri,
Sep 10
Doors:

8:30 pm
|
Show:

9:00 pm
Tickets: $15 ADV - $20 DOOR
Ages 21 and Up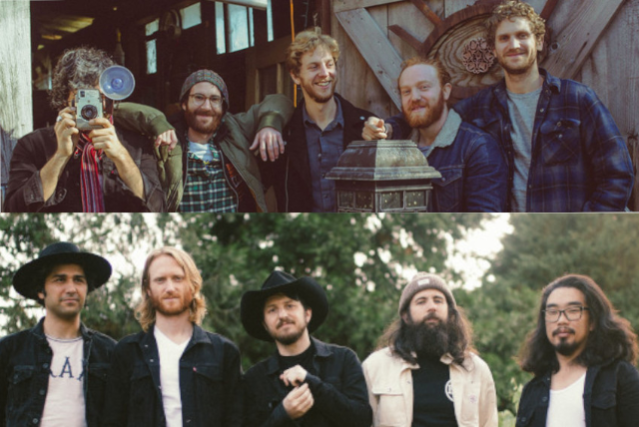 Another Planet Entertainment and The Independent are committed to producing safe events. All patrons attending events at The Independent are required to show proof of full vaccination (must be 2 weeks past final dose) OR a negative COVID-19 test within 48 hours from the time of entry to the venue.

Per the city and county of San Francisco, masks will be required regardless of vaccination status while attending events at The Independent.

For more information, visit our Health & Safety page.

* Policy is subject to change
Artists
King Dream
King Dream is an indie psych-rock project from Bay Area songwriter and multi-instrumentalist Jeremy Lyon. With a soulful voice, roots planted in the golden era of California psychedelia, and a wry energy that places him firmly in the 21st century, Lyon charts a path through timeless themes: disillusionment with oneself, with adulthood, with one's country — and the discovery, time and again, that somehow there's still plenty worthy of a love song.
Lyon, a Bay Area native, previously co-founded the folk-rock band Tumbleweed Wanderers, who toured the country for five years before disbanding in 2016. Inspired by songwriters like Jim James, Jonathan Wilson and Blake Mills, Lyon spent the next two years questioning and reinventing himself — and, thanks to his vocal ability and versatility, soon became one of the most in-demand sidemen in the Bay. Playing with different bands, he picked up a few things: new instruments and arrangement techniques; a love of darker textures and moody, atmospheric sounds on electric guitar. And then an invaluable collaborator- producer: Lyon credits Graham Patzner of Whiskerman with helping to shape and carry the new project from idea to reality.
King Dream's self-titled debut, out now, is a reemergence of sorts. It's also a good record for a long drive along the coast. It's about places, relationships and empires crumbling, and the possibilities that announce themselves when the dust has cleared — when you find yourself alone for the first time in a long while, and you open your mouth and see what comes out.
- Emma Silvers
King Dream blends anthemic and cosmic, bombastic and subdued, with reckless abandon and finesse.
Goodnight, Texas
Conventional wisdom says the two frontmen of a band shouldn't live on opposite sides of the United States, but that's never seemed to deter Avi Vinocur and Patrick Dyer Wolf.

Goodnight, Texas is a band whose strength lies in unexpected sweet spots. Drawing their name from Pat and Avi's onetime geographic midpoint (the real town of Goodnight in the State of Texas, a tiny hamlet east of Amarillo directly betwixt San Francisco, CA and Chapel Hill, NC), the band also exists at the center of its songwriters' contrasting styles — via a 1913 Gibson A mandolin and a 2015 Danelectro, at the crossroads of folk and blues and rock 'n' roll, in a place where dry wit and dark truths meet hope and utmost sincerity.

In March of 2020, the band released its first live album: "Live in Seattle, Just Before The Global Pandemic." Jonathan Kirchner recorded, mixed and mastered a weekend of October performances at Tractor Tavern that featured a newly expanded five-man lineup. GN, TX rookie Chris Sugiura brings precision and flair to the bass (and strong hair); grizzled veteran and former GN, TX bassist Adam Nash slides over to lead guitar and pedal steel where he can truly dazzle; extra grizzled veteran and former GN, TX bassist Scott Griffin Padden holds steady behind the kit, beating the hell out of the available objects with aplomb. In a strange and often dark time, here is a totem of life, and a great example of the raucousness and dynamics of the band's live performance.

Also in March 2020, as the world confronted a new indoor reality, two long minutes of the GN,TX mainstay "The Railroad" found themselves in the intro sequence of the first episode of Netflix's "Tiger King," which shattered streaming records with 34 million views in 10 days.

On September 10th, 2021, the band's unique version of Metallica's 'Of Wolf and Man' will be featured as part of the 30th anniversary of The Black Album on the 'The Metallica Blacklist'. Avi from Goodnight, Texas occasionally plays and sings with Metallica when they perform acoustic.
Suzanimal
Suzanimal is a psychedelic pop project from San Francisco singer, songwriter and bassist Suzanne Galal. Inspired by her love of the Talking Heads, Sylvan Esso, and LCD Soundsystem, Galal picked up a bass guitar for the first time at the age of 30, and began writing songs soon after. The result was
Body
. Recorded at San Francisco's legendary Hyde Street Studios, it's an ambitious and surprisingly confident EP of groove-driven tracks, all topped by Galal's seductive yet light-as-air vocals. It was described by
KQED
as, "subtle, evocative and precise — swings with an attitude that's breezy yet grounded." A Suzanimal show is designed to make you lose yourself to the rhythm -- with just enough of the unexpected to keep you on your toes 'til the afterparty.