Under The Rug
Sun,
Oct 22
Doors:

7:30 pm
|
Show:

8:00 pm
Tickets: $20 ADV - $25 DOOR - $50 VIP
Ages 21 and Up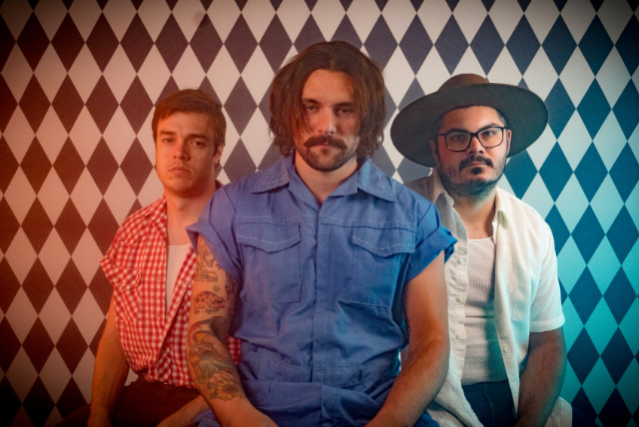 Artists
Under The Rug
Austin, TX heart-on-sleeve indie/folk-rock band Under The Rug took leave from their mobile home and traveled across the U.S. to Los Angeles to record their third full-length album, Homesick For Another World, produced by Oak House Recording owner and David Fridmann understudy David Peters (Blake Mills, Empress Of).
Western Canadian Music Awards' "Breakout Artist of the Year" Ariel Posen - described by Rolling Stone as, "A modern-day guitar hero" - contributes slide guitar to the record. Under the Rug have been featured at American Songwriter, Rolling Stone India, Atwood Magazine, Americana UK and even received a co-sign from The Mountain Goats' John Darnielle.
Lead singer, songwriter and guitarist Casey Dayan, guitarist Sean Campbell, and drummer Brendan McQueeney have taken a fanatical and steadfast approach to DIY marketing, which has helped grow the band's audience exponentially since their 2019 debut album Pale King. With their sophomore LP Dear Adeline, the band has grossed over $100,000 within the first month of their CD campaign, and have received tens of thousands of comments from a fierce fanbase on social media, including 300 members at $20/month from their own home-brewed membership service, The Secret Hideout.
Under the Rug - possibly one of the hardest working indie bands out there right now - used the time afforded to them during lockdown to expand their musical horizons. Drummer Brendan McQueeney learned piano and Dayan took on mandolin. They also incorporated unusual percussion items from washboard to a ticking, antique watch to articulate the album's heady themes.
"The pandemic was a big shift in terms of the musicianship and how seriously we took it" McQueeney says. "I think that's reflected in the music. We found a pocket that makes sense for us. That comes from just doing a lot of looking in the mirror and being willing to push ourselves."
Homesick For Another World is a meditation on alienation. It combats the grim realities of life and death and loneliness with levity and heartfulness, offering urgent lyrics in a playful manner that prioritize magical realism, surreal humor, and piercing insights on modern malaise.
Album opener "Turkey Vulture" kicks off with a wistful tremolo from plaintive mandolin and elegant, understated piano in unison with its soul-baring sentiment: "Something in my body's breakin' / Wake up pale and shaking / Nothing is ideal / But I am fine."
The theme continues to churn on "Bolo Tie" with more gently articulated arpeggiation from mandolin, a larger-than-life chorus with cavernous drums, reverberated guitars, blissed-out bass fuzz, sparkling synths and felted piano melodies that beget the closing cruncher: "At my fingertips the things I need / The problem is I don't know what I want."
Homesick For Another World's Beatles-esque production flourishes underscore Dayan's unique songwriting perspective. "Lonesome & Mad" underlines these elements with its agile hooks and crackling slide guitar from Ariel Posen, offering warm melodies and a wordless chorus in the outro. Dayan is practically snarling by the end: "I feel like I wanna go home / But I am home / And here I will wait by the door / Like an old dog / Hearing the footsteps of all the strangers / Who are just passing by."
Packing a decade's worth of friendship and songwriting in a beat-up van, Under the Rug's on-the-go work ethic has yielded an expansive record, written on the road to Los Angeles, brimming with hope and hard-won truths from the heart. They're a band that believes putting the work in manifests success.
Dayan seconds this notion: "You have these moments where you look in the mirror and say, 'Are we really going to try and keep doing this?' It's hyper-competitive. It's like this insurmountable thing that people laugh about when you say it. It always comes back to going harder on learning and practicing. How the fuck are we going to do this? By working harder."
On Homesick For Another World, Under The Rug delivers moments of consolation to assist the pangs of grief felt by its narrator, such as the "You won't ever be afraid, ever again" refrain in "Panacea," or the benevolent church organ that bookends closing track "El Presidente."
"So much of my songwriting has been exploring this idea of things feeling wrong and dealing with it," Dayan says. "I was in this mindset that we have these people who are listening to us now, and it's insane how many people are listening. Are we going to just paint everything as grim? Is there an upside to this feeling? Is there something comforting? If I were writing this song to my son or daughter, would I tell them it's all miserable?"
If anything, Homesick For Another World manages to pull people together in unexpectedly moving ways by acknowledging that we're all searching for those unknowable answers together. At its heart, the record takes an optimistic outlook. Dayan suggests, "Sure, maybe there is respite in that your loneliness and suffering does end somewhere. You're always looking for a cure to your suffering. But also, maybe the cure, the end, is the scariest part. In a way, that flip-flop was comforting to me. Or surprising. And I really think that…if you surprise yourself with your songwriting and you learn something in the process, there's this weird sense of life that makes it into the work."