Maybe Life Is Good Tour
Em Beihold
Tue,
Feb 20
Doors:

7:30 pm
|
Show:

8:00 pm
Tickets: $26 ADV - $26 DOOR
All Ages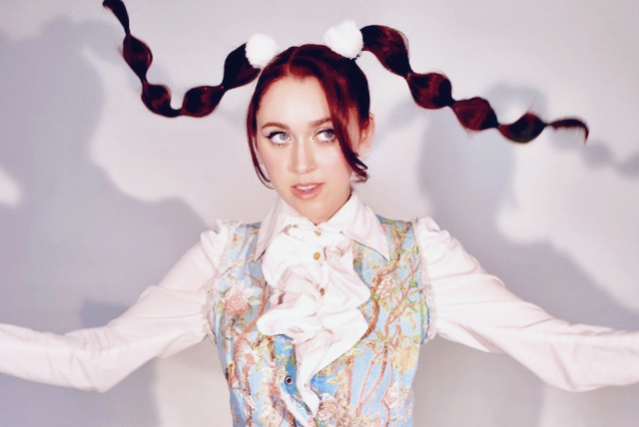 $1 from each ticket will be donated to Active Minds
Em Beihold VIP Soundcheck Package
Package includes:
One general admission ticket
Early entry into the venue
Access to a preshow soundcheck with Em Beihold
Group photo with Em Beihold in front of the stage
Specially designed tour cinch bag (exclusive to VIP only)
Commemorative VIP laminate & lanyard
Priority merchandise shopping
Limited availability
*Note this package does not come with a concert ticket. Access to the show sold separately*
About Active Minds:
Active Minds is the nation's leading nonprofit organization promoting mental health awareness and education for youth and young adults. Active Minds has a presence at more than 1,000 campuses, schools, communities, and workplaces nationwide and is powered by a robust Chapter Network, the nationally" acclaimed Send Silence Packing® exhibit, inspiring Active Minds Speakers, and a number of other impactful programs. The organization is dedicated to ending the silence and changing the culture around mental health for everyone. To learn more, visit
www.activeminds.org
.
Artists
Em Beihold
A conversation with a friend might unfold in multiple directions all at once, surveying the ups, the downs, and the weirdness of life without fear or filter. Via music, Em Beihold converses and connects much like your closest friend would. She isn't afraid to be blunt, disclose her insecurities, or laugh inappropriately, yet she's got nothing but love. It's why she's quietly emerged as an identifiable and inimitable platinum-certified pop songstress with north of 1 billion streams and widespread critical acclaim. She's the girl on the red carpet with the $10 coat (who will proudly tell anyone who asks!) and who sends her hair stylist a picture of Jessica Rabbit as inspo for a late-night TV appearance.
Yet, she opens up even more on a series of 2023 singles and her forthcoming full-length debut for Moon Projects/Republic Records.
"I'm super honest musically, because that's what I am in real life," she exclaims. "Lyrically, I always try to be specific and less generalized. It can come off blunt. Sometimes, I don't care and do it anyway, which is good and bad. I have a dark sense of humor. So, the brutal honesty in the lyrics is paired with bright music. I used to write for myself as a form of therapy, but the fact that listeners relate to the songs is the greatest honor I could have."
Born of half-Persian descent, the Los Angeles native embraced music at the age of six and never let go. She studied classical and jazz piano and carefully crafted a nuanced signature style over the years. She climbed into the pop culture conversation with the 2022 platinum smash "Numb Little Bug." It has generated over 500 million global streams in addition to cracking the Top 20 of the Billboard Hot 100 and lifting Em to #1 on the Billboard Emerging Artists Chart. Not to mention, she also toppled the Spotify Global Viral 50 Chart at #1 and climbed to #1 on the Hot AC Radio Airplay Chart as well as vaulting into the Top 5 at Top 40. She only accelerated her rise with the Egg In The Backseat EP, making her late-night television debut on The Tonight Show Starring Jimmy Fallon. Not to mention, she incited the applause of The New York Times, Stereogum, Teen Vogue, V Magazine, and Variety who hailed, "Beihold is very much
part of the new guard." On the EP's heels, she lent her voice to a duet version of Stephen Sanchez's "Until I Found You," which exploded to the tune of over 230 million Spotify streams and counting. Moreover, they lit up The Late Late Show with James Corden together during a show stopping and smoldering performance. Asserting herself as a dynamic live presence, she has also captivated crowds on the road and opened for the likes of King Princess, AJR, Jonas Brothers and Lewis Capaldi.
"It's been super fun and unexpected, and admittedly very overwhelming," she reveals. "Even if your dream is for your music to take off, nothing quite prepares you for what it's like to be flying around nonstop. It's the most incredible and crazy opportunity."
Fittingly, the 2023 single "Roller Coasters Make Me Sad" documents the experience of the preceding year. On the track, airy synths and finger-snaps underscore her candid vocals punctuated by a swooning string-boosted crescendo. The song drops into a distorted stomp on the hook with the force of a loop-the-loop, "First they take you up the track, build you up and take it back, everybody else will laugh Roller Coasters make me sad."
"It's about the experience with 'Numb Little Bug'," she admits. "On the day it dropped, the response was insane. I should've been happy. Instead, I felt this pressure to keep the momentum going. I knew that everything that goes up must come down. I was bracing for the fall, because it was so unbelievably good. I couldn't just enjoy the ride. At the same time, I actually do hate Roller Coasters, and we found a way to tie that together with this idea," she laughs.
The follow-up "Masquerade" bops along on a hummable bassline and boisterous horn samples as she declares, "I'm done with the masquerade, if we're all sad, then everything's okay."
"I had coffee with someone who I had basically idolized for years and couldn't believe I was meeting," Em recalls. "She started talking about therapy. I realized all of these artists we look up to also struggle, and we tend to forget it. The whole exchange made me realize no one is necessarily as better off than you as you think they are. I'm so over pretending to be fine. I'd rather everyone be truthful, and we'd be a much more connected society."
Ultimately, Em might just make you feel like you can open up too.
"I leave enough space in my music to set a relatable scene where people can fill in the blanks themselves," she leaves off. "At the end of the day, my biggest goal is for you to feel less alone. When I meet fans on tour, they often tell me that they sought out therapy, because they realize they're feeling similar things. To me, that's a more lasting change than any stats or accomplishments."