Groundation
Thu,
Jan 4
Doors:

7:30 pm
|
Show:

8:00 pm
Tickets: $30 ADV - $35 DOOR
Ages 21 and Up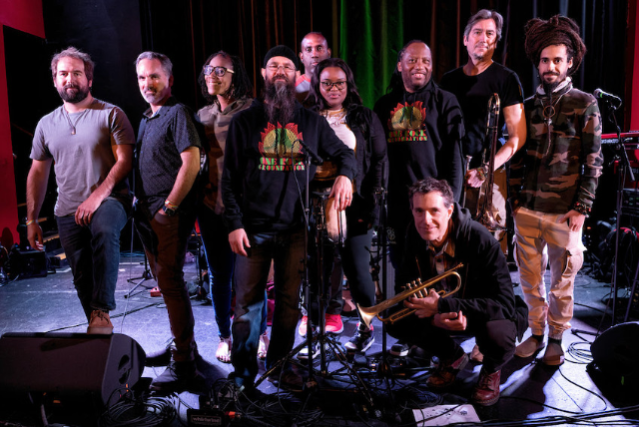 Artists
Groundation
More than two decades into a storied career, GROUNDATION has helped define American roots reggae, while building a large and loyal following in Europe, South America and the US where they have been a consistent major headliner and festival attraction for the last 15 years.
GROUNDATION formed in 1998 when Stafford started a roots reggae/jazz fusion group with fellow students at the Jazz Performance program at Sonoma State University. Stafford's interest and knowledge of the reggae genre led to him developing and offering a course he taught at Sonoma State called "The History of Reggae Music." Reggae legends like Joseph Hill of Culture and historical icons like Abba Melchezadek (Haile Selassie's private secretary) amongst others came and shared their personal experiences with the classes.
GROUNDATION's first two albums, Young Tree and Each One Teach One, established their unique roots sound, while also commencing collaborations with foundational reggae artists. Each One Teach One features the vocalist Marcia Higgs and the Nyabinghi drumming master Ras Michael.
In 1999, while in Jamaica, Harrison met the legendary engineer Jim Fox, who did extensive production and recording for RAS Records, including their most iconic releases. This was the beginning of a longstanding relationship between GROUNDATION and Lion and Fox recording studios. Subsequently Fox re-mastered Young Tree and Each One Teach One and he recorded and mixed Hebron Gate (2002), the album that launched GROUNDATION into international acclaim. Fox has continued working with GROUNDATION on their subsequent releases helping to shape their sound on We Free Again (2004), Upon The Bridge (2006), Here I Am (2009), Building An Ark (2012) and A Miracle (2014). Together they built a catalog of genre-bending, deep, progressive roots reggae music.
GROUNDATION's visual artwork has also had a consistent look and feel headed by Giovanni Maki, Stafford's childhood friend. Giovanni has created the album graphics and visual designs for GROUNDATION from the group's inception.
GROUNDATION has performed in over 35 countries on 5 continents. They have had a number of personnel changes over the years, but with Harrison Stafford at the helm, GROUNDATION continues to bring reggae into new worlds. Their album, The Next Generation (2018) opens with a full jazz big band (featuring 12 horn players). This album won Reggae.fr's "Best Roots Reggae Album of 2018," This award was voted on by over 16,000 media members, musicians, producers and fans.
The journey continues as GROUNDATION spreads their words and music to the four corners of the world.
DJ Harry Duncan
Harry Duncan, longtime Bay Area-based producer of black music concerts also produces and hosts In The Soul Kitchen, the award-winning, weekly radio show broadcast live on KCSM, the Bay Area's jazz station.
Respected industry wide as an innovator, Duncan serves up his own freestyle Roots & Rhythm mix: a rich, danceable musical stew of soul, funk, blues, roots reggae, ska and jazz plus African, Latin and select World music when spinning live and while In The Soul Kitchen.
This music mix gives audiences, artists and promoters a welcome alternative to the kinds of in-house music usually played at festivals and concerts.
Duncan has appeared with a wide variety of artists including:
Aretha Franklin, Tedeschi-Trucks Band, The Roots, George Clinton and P-Funk,, Bonnie Raitt, Mavis Staples, India Arie, Tower of Power, Los Lobos, Boz Scaggs, Trombone Shorty, Dr. John, Galactic, Irma Thomas, The Original Meters, Rebirth Brass Band, The Soul Rebels, Dumpstaphunk, N. Mississippi All Stars, Cory Henry, Alice Smith, Lizz Wright, Cody ChesnuTT, Antibalas, Femi Kuti, Bombino, Steel Pulse, Fishbone, Ziggy Marley, Madness and The Specials.