Object Heavy x Boot Juice
Thu,
Jan 11
Doors:

7:30 pm
|
Show:

8:00 pm
Tickets: $20 ADV - $25 DOOR
Ages 21 and Up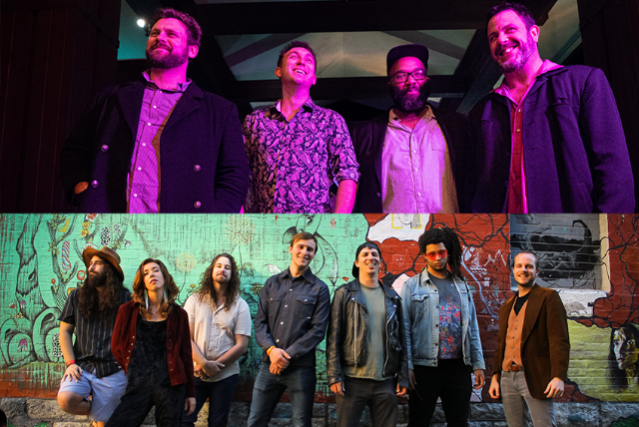 Artists
Object Heavy
Object Heavy is Humboldt County's hard hitting soul sensation. The band is led by the nuanced and powerful voice of Richard Love and composed of seasoned veterans of the West Coast Soul and Funk scene. Fresh off the release of their new record, 'Love & Gravity' (Produced by Kelly Finnigan of Monophonics), they have garnered stellar reviews from an international audience and were promoted as a featured artist on Apple Music's Soul and RnB carousel. They were also featured on several of Apple Music's top playlists within their genre field. Object Heavy has spent the last few years establishing themselves as a stand out live experience in touring the greater western United States and sharing the stage with diverse talent such as Orgone, The Motet, Rebirth Brass Band, Polyrhythmics, Turkuaz, Lyrics Born, and Chali 2na. Object Heavy's magnetic blend of classic Cadillac soul, effortlessly contagious dance grooves, vocal harmonies and blazing musicianship is a must see live experience.
Boot Juice
Boot Juice hails from the Hills of the Sierra Nevada Mountains in Northern California. The band features electric and acoustic guitars, three vocalists, bass, drums, saxophone and trumpet. Inspired by the likes of The Band and Railroad Earth with an intensely energetic show reminiscent of Talking Heads, Boot Juice has been gaining buzz with their vibrant performances and party-sparking reputation. Shifting effortlessly between driving bluegrass and americana into cosmic rock'n'roll and swing. They deliver three part vocal harmonies and dynamic instrumental arrangements with a sultry dose of blues and soul. The collective effect leaves crowds little choice but to shake it down on the dance floor.
Boot Juice has been kicking around the west since 2017, leaving audiences happy, and dance floors sticky. They have kept an ambitious tour schedule, hitting the road in their 96' International school bus, constantly adding to their ever-growing resume of festival and club appearances. Founding members Connor Herdt (acoustic guitar and vocals) and Evan Daly (electric guitar and vocals) have been friends since childhood. The two have been playing music together since their teenage years, combining their respective passions for americana and rock'n'roll songwriting with a desire to create a big sound that feels right at home in a barroom or on a large festival stage. Brett Worley (bass wizard) not only holds down the low end, he is also Evan's cousin and has been touring with the band since the beginning. Brett's melodic bass style has become a signature of the Boot Juice sound. Jess Stoll (vocals and artwork) joined the band shortly after, bringing another lead and backing voice to the group for deeply layered harmonies. She wears many hats for the band, acting as the artistic director for all of the band's design concepts and providing the vision and drive necessary for a big production. Billy D. Thompson (drums) has been a staple of the Sacramento music scene for the past decade, graduating from Sacramento State University with a degree in Jazz Drum Performance. Billy brings his soul and funk influence into the Americana realm, adding yet another dimension to the band's sound. In 2019 Boot Juice came into it's full current lineup with the addition of its horn section. Caleb Sanders (alto and tenor saxophone) and Micah Marmorstein (trumpet) bring an infectious energy and tight horn harmonies to the stage, making it tough not to dance. It's not uncommon to see these guys hanging off the rafters or running into the crowd by the end of the night.
Boot Juice plays music that will attempt to bring you to the street corner, the river side, or the open highway. They released their debut LP album, Speaking in Tones, in May 2019 and followed in March 2021 with their second record, Shifting gears. The group is currently tracking its third LP, which will be released in 2023.