New Year's Weekend
The Midnight
Droid Bishop
Danny Delorean
Sat,
Dec 30
Doors:

8:30 pm
|
Show:

9:00 pm
Tickets: $45 ADV - $50 DOOR
Ages 21 and Up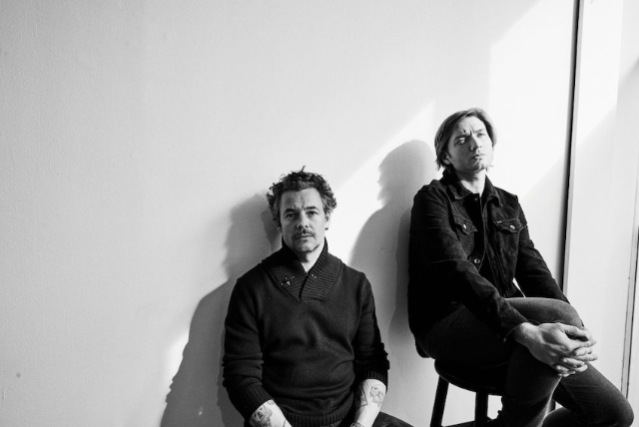 Artists
The Midnight
"We stick to the archetypes. A literal world isn't interesting. We're trying to put a skin around the symbols and myths that civilization has told itself for 10,000 years. The better the symbol and the more universal the myth, the more people can create a world for themselves from their memories and desires. That's the goal: Give the audience enough raw material to make the world their own."
— Tyler Lyle of The Midnight
The Midnight, the duo of producer Tim Daniel McEwan and singer-songwriter Tyler Lyle, are masters of flipping the disparate archetypes of yearning American youth — think everything from John Hughes films and the Smashing Pumpkins' "1979" music video to Snapchats of ravers losing it to a big bass drop and the lonesome sway of the "lofi hip hop radio – beats to study / relax to" YouTube channel — into their own modern collage that finds a throughline between generations of teenage ennui.
Their music fuses this Americana with an evocative electronic palette that incorporates synth-driven film scores, dance music, synth-pop, and rock, creating an enveloping harmony of richly textured sonics and poignant lyrical imagery. Each song cultivates a story written on a bedrock of universal themes and eternal hooks, coming together to create a body of work that unifies an enthusiastic global fan base.
This movement McEwan and Lyle have been building since 2014 began online with their debut album Days of Thunder, and over the past six years has become an encompassing, multi-sensory opportunity to find community wherever someone goes. Fans come together online on every platform imaginable, streaming and downloading their previous releases – Endless Summer (2016), Nocturnal (2017) and Kids (2018) millions of times, and jumping over to spaces like social media and Reddit to hermeneutically dissect The Midnight's body of work with a loving passion. They come together, 15,000 at once, to experience a livestream benefit the band puts together. They make fan videos. They blast the records at parties and crank up the volume on their car stereos. They show up by the thousands to sold-out shows on multiple continents. Fans see themselves in the movement and want to bring in more people. With The Midnight, you're never alone.
Since their beginning McEwan and Lyle have been building progressively more complex yet eminently relatable worlds — their most-recent effort earning the top spot on Billboard's Dance/Electronic charts and getting songs placed in shows like 13 Reasons Why. These architects use meticulously crafted music, a stunning visual aesthetic, and engaging live shows to tap into our quietest and most wistful tendencies, the unbridled sense of joy we have within us, and our infinite desire to surrender ourselves to the collective charisma of togetherness.
The ingredients of this come from a blend of markedly different experiences. McEwan grew up in Denmark and got his start in pop-music production working with acts like Sean "Diddy" Combs, New Kids on the Block, and The Wanted before he and Lyle met in 2014 in Los Angeles. Lyle hails from the Alabama-Georgia line, forging an indie-folk music career, releasing albums such as The Golden Age & The Silver Girl and co-writing music with Court Yard Hounds, among other acts.
Their fateful pairing in Los Angeles yielded Days of Thunder, which features concert staples "Gloria" and "Los Angeles" and laid the foundation for The Midnight's seamless blend of stirring narratives and magnetic electronic music. With each release, Tim's interest in musicians like Toto, Phil Collins, and Thomas Newman, and Tyler's attraction to the songs of people like Springsteen, Dylan, and John Prine, have blended together more immaculately, creating richer work for listeners to explore.
A key element of The Midnight's work is the visual art that accompanies their music. The cover art for their albums and singles, and the still images and videos on their social media accounts, all complement the themes and motivations involved in their storytelling.
"I love the visual side of the music," McEwan says. "Adding that dimension and building that world is so fun. You're able to be much more precise with what you want the listener to feel."
The imagery shifts considerably on the cover for forthcoming album, Monsters. In it, we see a dark bedroom with an old PC monitor and snowy T.V. offering the primary source of dim light. On the floor is an original Playstation next to a pizza box. A backpack and skateboard are close by. On the walls are film posters with the titles of each of the album's songs. This is a snapshot of a late night spent vacillating between playing around on the internet and the pull of a super fun console video game system — it's a teen's lair and in it we see ourselves.
That cover shows a pronounced preview into the world of Monsters. The 15-track album, a sequel to 2018's Kids and second record in an intended trilogy, finds McEwan and Lyle embracing new sounds while retaining the DNA of what has made them so compelling. There is a balance of the familiar with a drive to elevate the songwriting and the sonic palette into new, exciting areas. This mirrors the transition from being "just a kid" to being a complicated, heart-afire teenager.
"I wanted the wonder of coming of age to shine through and combine that with the inherent darkness and complexity of being a teenager," McEwan says. "I wanted it to feel a lot more adult and emo than Kids. Adolescence is messy, tragic, brutal, wistful and beautiful. Monsters is all of that."
The teenage years can be marked with isolation. For every homecoming dance, prom, or surreptitious party at a friend's parent-free house, there are hours spent online deep into the night — with merely the blue light of a monitor guiding the way. This is as true for the kids now as it was for their parents. Isolation and connection are key themes on Monsters.
Lyle says the album tackles some big questions that arise during adolescence and might not necessarily find a resolution into the adult years: "How vulnerable can I be? How do you learn that? What sort of boundaries can and should be placed around the human heart? What is lost if I reach out and have my heart broken, but what is lost if I don't?" Along those lines, Monsters — like its predecessors in The Midnight's catalogue — isn't stuck in the past. It's not about wanting to go back, so much as it is a story of how we manage our own monsters to build a suitably connected life.
Ultimately, when that last note hits, The Midnight have us prepared for the next album, the third in the Kids trilogy. We started out finding universal themes and common ground in our childhoods, then we shifted to the beautiful brutality of adolescence, and now we're ready to contemplate the stakes of adulthood. We may find ourselves in the songs of Monsters — we may come up with our own interpretations of the symbols — but we've had Lyle and McEwan guiding us with love and respect throughout the journey.
"As we become aware of where our sounds are and why people stick with us," Lyle says, "we want to do two things: make sure there are enough comfortable moments, and we also want to push the sonics and the songwriting into new worlds as we create a bridge for listeners to come along — rather than just dropping them into it without a map."
Droid Bishop
LA based producer, Droid Bishop infuses his love of all musical styles into a sonic rainbow of organic & synthetic sounds. Mixing nostalgic synths and live instruments with danceable grooves , and often orchestral additions, affords him a unique approach to electronic music that is bathed in 70s and 80s influence while still maintaining a fresh and modern sound.