Priya Ragu
Tue,
Mar 19
Doors:

7:30 pm
|
Show:

8:00 pm
Tickets: $20 ADV - $20 DOOR
All Ages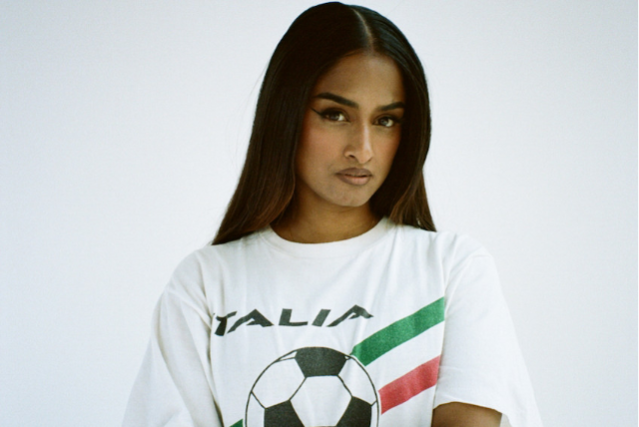 Artists
Priya Ragu
Priya Ragu's debut mixtape damnshestamil, was alight with music so vibrant, fluid and musically broad that it transcended the artist making it and took on a life of its own, finding love among a global community of fans and critics alike, who celebrated its "eruption of inventive, deftly executed ideas'' (NME) and "addictive pop energy" (The Telegraph). Ragu's wholly unique approach, dubbed Raguwavy by the singer, is vast and dauntless, incorporating simmering and sun-dappled R&B, masterful pop hooks, earthy soulful vocals, hip-shaking dance beats, and the warm tabla rhythms, heart-swelling strings and spiralling melodics of Tamil music. "The mixtape really reflected the place that I was at emotionally and as a human being. It was a journey to get to know myself, to really listen to my intuition, to trust that, and take a leap of faith."
It was a journey a lifetime in the making. While Ragu was raised in the Swiss city of St Gallen, her parents were refugees of the Sri Lankan civil war, leaving the country in the 1980s. Despite their new home, they ensured that Ragu and her brother, producer Japhna Gold, were immersed in Tamil culture, hosting jam sessions at their home where everyone would sing Kollywood songs. She was also the singer in a band with her father, who played the tabla, and brother, who was on keys.
Despite this rich musical upbringing, Ragu's parents didn't quite understand her fiery ambition to pursue music as a career – in the tradition of Tamil culture, they wanted their daughter to get a good job and then get married. And so Ragu partitioned her life: in secret she practised at pop stardom and for her parents she got a job working for a Swiss airline. In 2017, however, Ragu up-ended her life and relocated to New York for six months where she began working with her brother, who was still in Switzerland, on music. That would ultimately lead to the creation of damnshestamil.
Ragu documents all this on her effusive, assured and dynamic debut album, SANTHOSAM. Meaning "happiness" in Tamil, the record was crafted once again in collaboration with Ragu's brother Japhna Gold and buzzes with the pair's faultless and electric fusion of Tamil and Western influences. SANTHOSAM, however, elevates the Raguwavy sound with even bolder and adventurous references, swaggering braggadocio, gorgeous and varied musical textures, triumphant disco bangers, urgent and purposive political themes, and Ragu's contagious positive spirit.
The album opens with "Ammama's Note", which features a voice recording from a video message sent to Ragu by her grandmother and her cousin in 2017 where her grandmother is talking about why Ragu wasn't getting married. "That question was a trigger to me in my twenties," says Ragu. "I was always a daughter that did everything to comfort my parents, but when it came to that topic, I was very clear that it was my own choice." Even though in Tamil culture it's common for people to get engaged at a young age, for Ragu the idea of marriage meant something else: "It was a reminder to me that there was more to life. As a woman, I knew that I had way more to achieve before I settled down. I think a lot of South Asian girls can relate to that."
Ragu confronts this head on with "School Me Like That". Over a rumbling tabla beat and breezy synths, she addresses the pressures of family and work then steps back on the pre-chorus to prioritise herself. "I took a leap of faith just to place my feelings over reason," she sings before jumping into the euphoric chorus: "Just look at me now/I'm good/Wake up to things I really wanna do." "That song is about breaking free," Ragu explains, "and proving to whoever that I'm living the life I want and that I made it. Look at me now."
With her destiny now firmly in her own grip, Ragu takes things to the dancefloor with the disco shuffle of "One Way Ticket", a floor-filler doused with Raguwavy sauce that taps into the connective energy of the dancefloor. On "Hit The Bucket", an ode to family jam sessions with a glorious amalgam of syncopated beats and South Asian melodics, she drips with confidence, stating: "damnshestamil her energy prem." Over the frenetic grimy bounce of "Adalam Va", Ragu shares her wisdom over the marching snare drum of the pre-chorus with the mantra-like repetition: "It's all in my hands right now." And with the pool-side sway of "Vacation", Ragu acknowledges the realities of burnout, the pressures of expectations and being "lost in the madness".
"That song came about while we were touring and writing at the same time. We just reached a limit. We were exhausted from all of the travelling, creating and never really being home, so we booked a flight to India," Ragu says. "But it's not just about being a pop star or being creative. Even when I had my office job, I was lost in that, you know? That song is a reminder of how important it is to give yourself a break, to step back, let loose and allowing yourself to recharge your batteries. Even when you love something very dearly, too much of it can also affect you negatively in some way. You can easily get lost in the sauce. It's important to connect with yourself. In a way the whole album is about connecting with yourself."
This sense of connection transcends the individual, though. "Black Goose", written in the wake of the murder of George Floyd and the Black Lives Matter protests of 2020, is ablaze with anger, solidarity and the resistant rhythm of the dholak and tabla, Ragu chanting in the pre-chorus: "Officer don't shoot/I got so much shit to do." It ends with the ricocheting of a gunshot, leading straight into "Let Me Breathe (Reprise)", a spiritual call for freedom, emancipation and peace as the soul leaves the body and speaks to God. "It is 2023 and we are crying and protesting about the same damn thing – we are screaming injustice as the seasons pass by," Ragu says of the two tracks. "The people are injected with fear. The media is playing us against each other. The ruthless killing of innocent Black people hurts our souls. As Tamil people who had to flee their home due to genocide, we feel their pain and we stand with them as we keep singing these songs, as we keep dancing together until we celebrate justice and freedom for all of us."
SANTHOSAM also explores more personal connections too. "Easy", with its metallic crunch of garage beats and shimmering late-summer haze, sees Ragu advocating for simplicity when it comes to love. Acting as a sort of companion piece is the stunning "Uyiree", which sees Ragu channelling her inner Sade over a swirl of synths and spinetingling background vocals. "Cornerstore", meanwhile, takes things back to the '90s with pillowy melodies, relaxed horns and hot Californian drums. "I always wanted to write about what happens when you have a deep connection with someone but that relationship ends," she says. "If you love someone so deeply, can you ever stop loving them? Even if it's over, there will always be something and you'll always wonder if that other person still has you on their mind."
There's a sense of thrilling experimentation on "Power". Opening like a Fiona Apple track with stabs of piano and a staccato vocal, the song soon swells with rising strings and Ragu's voice, which unravels as she welcomes the crashing light of her inner-strength. "We recorded the string section for 'Power' and 'Let Me Breathe' in Budapest," Ragu says. "The parts were written by a composer from Chennai called Bala. He said we had to be there in person to experience the recording. So me, my dad and my brother went to Budapest. It was so fascinating to me because the orchestra only needed one or two takes. It sounded so massive. It was very emotional to see how far we've come from our little studio in Switzerland to something like that. That my father was able to witness that was a big moment."
The album closes with the Tamil-language song "Mani Osai", which translates to "bell sound" and was written by Ragu, her brother and her father, who also provided vocals and instrumentation. "Every year we write a song together," Ragu says. "It's a family tradition. We weren't actually planning to put it on the record, but when we presented the songs to the label, they loved it. It's the perfect ending, really. And the fact that the song ends with the chant 'santhosam' was a complete coincidence."
It's a song that encapsulates the themes of the album: the inner-journey to find your happiness. And with
SANTHOSAM
, Ragu wants to inspire this sense of contentment in others.
"I think that's what music is about,"
she says.
"The album is my story of finding happiness. It helped me find my purpose in life. Maybe it will help others, too."