Con Brio, Analog Dog
Sat,
Jan 13
Doors:

8:30 pm
|
Show:

9:00 pm
Tickets: $28 ADV - $32 DOOR
Ages 21 and Up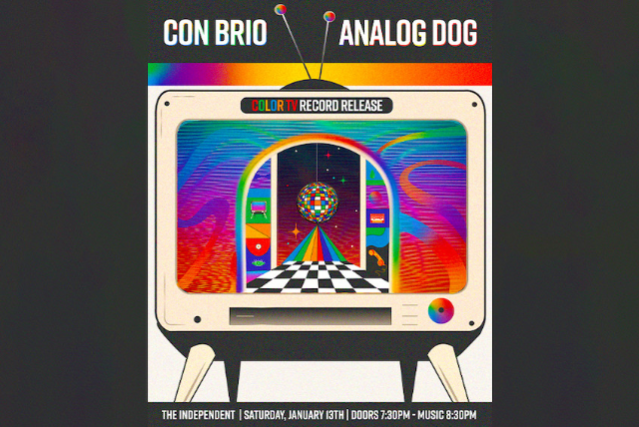 Artists
Con Brio
Con Brio is an elastic and explosive seven-piece band that makes emotional music at the intersection of soul, rock 'n' roll, pop and R&B. A Bay Area institution with an international following, Con Brio has spent more than a decade touring the globe, playing venues ranging from packed clubs to some of the world's biggest festivals, and enjoying a formidable reputation on the strength of their exhilarating, sweat-drenched live shows. They've been described as "infectious" (Washington Post), "a party-punk version of Sly and the Family Stone" (Consequence of Sound) and "the best new live band in America" (Pop Matters).
Scream At It, Con Brio's fourth full-length album, represents a rebirth in more ways than one. Amid the chaos of the music industry shutdown from 2020 to 2021, the band parted ways with vocalist Ziek McCarter and keyboardist Patrick Glynn. Scream At It introduces new faces, among them multi-instrumentalist AJ McKinley, (Battlehooch, Suzanimal) a talented lyricist who consistently adds a playful energy and danceable synth and guitar lines, and Sarah Clarke, a Portland-based guest vocalist well-known for her range and dynamic stage presence (Dirty Revival, the Motet). Holed up in their new studio in West Oakland, the band wrote, rehearsed, and recorded nearly constantly, returning to their DIY roots as they sought to develop a fresh, honest, and deeply collaborative sound — to literally find their new voice.
Meanwhile, the veteran rhythm and horn sections of Benjamin Andrews (guitar), Jonathan Kirchner (bass), Andrew Laubacher (drums), Marcus Stephens (saxophone) and Brendan Liu (trumpet) remain tight as ever, weaving together grooves that draw inspiration from Tower of Power to The Alabama Shakes, with each and every member contributing lyrics and arrangements. The result? A record that finds a seasoned band infused with an undeniable sense of freedom, excitement and discovery.
Scream At It is merely the opening statement from a band that is just beginning to discover the power of its new voice.
Analog Dog
Analog Dog makes genre fluid music in San Francisco, USA. Formed in 2019 & hailing from all corners of the country, the band came together in and around the hallowed musical breeding grounds of Golden Gate Park, with an intention of breaking free from the modern malaise and putting on transcendent live performances. Having once been described as 'the sound of the 70s, but from the future', Analog Dog's music is steeped in vintage allure while simultaneously embracing modern indie pop / nu-disco / jazz fusion soundscapes.