Rescheduled From 3/27
Larkin Poe
Tue,
Sep 8
Doors:

7:30 pm
|
Show:

8:00 pm
Tickets: $25 ADV - $30 DOOR
Ages 21 and Up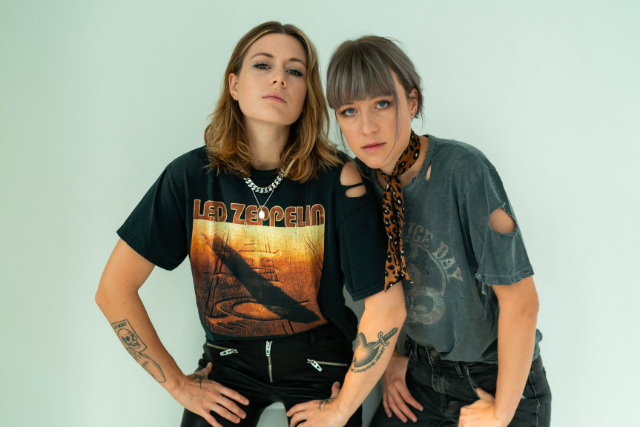 Larkin Poe at The Independent originally scheduled for March 27 is postponed. Larkin Poe will now play at The Independent on September 8. All tickets will be honored at the rescheduled date. Please check our website, theindependentsf.com, for the most recent updates on the status of this concert. Stay healthy and we look forward to bringing back the music soon.

Please visit larkinpoe.veeps.com to purchase Larkin Poe's Meet & Greet upgrade.
The Meet & Greet will include:
- Early entry to the venue
- Personal meet & greet and photo with Larkin Poe
- Acoustic one song performance by Larkin Poe
- Exclusive VIP merch item
- Commemorative VIP laminate
**General admission ticket is to be sold separately
Artists
Larkin Poe
Larkin Poe have found their voice. In a genre as storied as American roots and soul, the sister duo are poised to make a mark all their own with the release of their fourth album Venom & Faith, out November 9. Rather than concede to the history of the canon they hold dear or rest on their laurels, Larkin Poe persist and emerge rattling, stomping, and sliding into a modern-day depiction of what roots rock should sound like. Another chapter in an everlasting story.

"It's a celebration of roots American music," Rebecca says, "as translated by two sisters who are playing the blues in a modern age.

Steeped in the traditions of Southern roots music the Georgia-bred, Nashville-based Rebecca and Megan Lovell showcased their mastery in orchestrating, harmonizing and breathing new life into the musical heritage of their upbringing with 2017's Peach, which was nominated for a Blues Music Award for Best Emerging Artist Album. Recorded and produced entirely by the sisters and their engineer Roger Alan Nichols, Peach featured a mix of original songs and covers like Lead Belly's "Black Betty." The making of Peach unlocked a gateway into Rebecca and Megan's newfound confidence in their art and their history.

On Venom & Faith, the sisters once again tackle a majority of the instrumentation on the album. In addition to covering lead vocals and a wide range of musical instruments, Rebecca creates lush musical underpinnings that range from horn sections to hip hop drum elements. In tandem, Megan masterfully skewers the lap steel and twins her voice together with Rebecca's to create their unique blend of sister harmony.

The album's title, Venom & Faith, is taken from a lyric on "Honey Honey" and, according to the sisters, is intended to conjure a southern gothic image. "The title of our last album, Peach, was an homage to our Georgia-roots. With this album, we wanted a title that would allude to the duality of our art: gritty guitars offset by gentle vocals; musical moments of both tragedy and joy; the sacred and the profane."

Save for two covers, "Sometimes" by blues legend Bessie Jones and Skip James' "Hard Time Killing Floor Blues," the rest of the record's tracks are Larkin Poe originals. Paired with unique production touches, like organic percussion sounds — the thumping of dresser drawers, the slamming of back doors, and stomping on hardwood floors — Venom & Faith bleeds Lovell.

Recorded in Nashville in 2018, in between headline shows, festival dates such as Bonnaroo and Lollapalooza, and a featured guest performer spot on Keith Urban's GraffitiU world tour, Larkin Poe

approached Venom & Faith with fierce independence. From Rebecca's powerful vocals on "Ain't Gonna Cry" to Megan's sultry lap steel on "Good And Gone," the sisters weave their talents into the fabric of their experience and a picture of the American south. "Blue Ridge Mountains" harkens to the sisters' hometown, "drinking sweet tea every day," with stomping percussion and churning riffs. "Mississippi" enlists the slide stylings of friend and seasoned guitar legend Tyler Bryant.

Still, the sisters maintain an outlaw mindset in a traditional genre. Venom & Faith redefines what it means to make emotionally resonant music while also maintaining boundary-pushing musicality. Unbound by tawdry embellishments, Larkin Poe infuse pop sensibilities into their sound, blending old-school elements of rock and soul with drum samples, hip-hop production elements, and resonant lyrics like "California king-sized dreams in a twin bed."

Since forming in 2010, Larkin Poe have proven a formidable duo both in and out of the studio. In 2014, producer T-Bone Burnett enlisted Rebecca and Megan for Lost On The River: The New Basement Tapes, a project that also saw contributions from Marcus Mumford (Mumford & Sons) Elvis Costello, Jim James (My Morning Jacket), Taylor Goldsmith (Dawes), and Rhiannon Giddens. The sisters have performed at such esteemed festivals as Glastonbury (twice) and Newport Folk Festival; have opened for and been in the backing band of Elvis Costello and Conor Oberst; and supported the likes of Gary Clark Jr. Rebecca and Megan were also members of the all-star backing band for the 2017 MusiCares Person Of The Year tribute honoring Tom Petty (also organized by Burnett) alongside Jakob Dylan, Jackson Browne, Elle King, Lucinda Williams, Gary Clark Jr., Don Henley, and Randy Newman.

But on Venom & Faith, the Lovells are on their own, tapping soulful veins from whence a new iteration of Southern-inspired pop soul flowed. "Going into this record, we were feeling more confident in ourselves and our story and our voice," Megan says. "And having found our voice — we wanted to realize that."