The Fight Tour 2020
Overcoats
Postponed - New Date TBA
Tickets: $18 ADV - $20 DOOR
Ages 21 and Up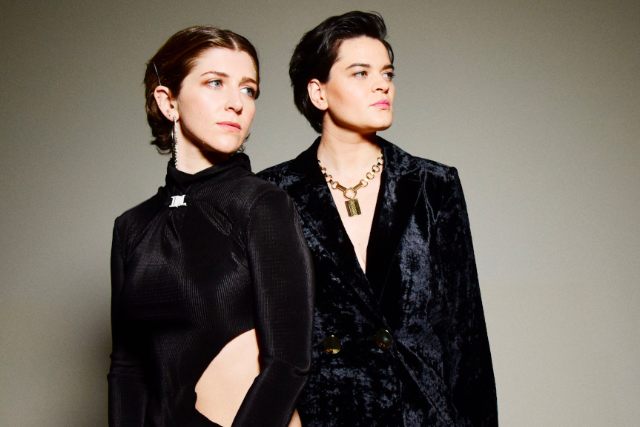 In response to the recent recommendations of local, state and global health authorities and mandates by city and state government, Overcoats at The Independent originally scheduled for April 2 is postponed. Please hold on to your tickets as all tickets will be honored at the rescheduled date. Please check our website, theindependentsf.com, for the most recent updates on the status of this concert. Stay healthy and we look forward to bringing back the music soon.
Artists
Overcoats
Shaving their heads, grabbing guitars, and pulling no punches, Overcoats etched a ten-song battle-cry on their second full-length album, The Fight [Loma Vista Recordings]. Their vision is not about picking up arms, but rather about picking oneself up. It's the kind of record that might inspire you to quit your job, run a marathon, divorce your husband, change your life in the way you always wanted to, but needed an extra push for. This is the push…
As New York-natives Hana Elion and JJ Mitchell wrapped up touring behind their critically acclaimed 2017 debut YOUNG, it seemed as though the world was collapsing around them. There was no choice but to fight. "We lost friends to addiction and to gun violence, we were battling an extremely tough political climate, and feeling the weight of existential loneliness," admits Hana, "We had to learn how to take care of ourselves and each other in a different way." "There was a realization that we couldn't wait for life to get easier," adds JJ. "The idea you have to fight for who you are, what you want, and what you hope to see in the world became poignant for us. We realized the thing to do is not to wait for life to get easier, but to start fighting harder."
So, they donned guitars in a shared New York city apartment and wrote the soundtrack to their fight. Hana and JJ personally assembled a team around themselves to help support their vision. Within a self-contained environment and under the watch of one London-based creative director, two LA-based producers, and, of course the two creators, the album came to life. They even self-produced a music video in which they shaved each other's heads. Yes, that's right. They shaved each other's heads. They agree, "We decided it was time to take matters into our own hands and shock some people. We needed to become warriors to fight for the future we wish to see in the world."
Inspired by everything from Young Marble Giants to The Violent Femmes to Iggy Pop, Overcoats rooted this next chapter in electric guitar and punk energy culled from nearly two years on the road. At the same time, they tempered the energy with a vulnerable vitality and irresistible catchiness. JJ explains, "The new music is a bit grittier and more rock-leaning, but there has always been and will always be a through-line of our voices singing in harmony." "This album is going to break your heart, but also try to put it back together," states Hana. "Allowing the guitar to dictate the sound, we tried to represent all of the stages of what this realization was. It's not just depression, anger, and sadness; it's the motivational stage too. It's the pop song that helps to distract you from your sadness. It's a call-to-arms to pull yourself up by your bootstraps and fight to stay alive."
In early 2019, they committed this vision to tape alongside producer Justin Raisen [Angel Olson, Charli XCX, Santigold] and Yves Rothman [Courtney Love, Yves Tumor, Miya Folick]. "We're always very D.I.Y.," comments JJ. "We weren't going to wait for some fancy producers and pop writers to pen us a record. We wrote it ourselves. We needed the right partners to record it. That's Justin and his secret weapon, collaborator, Yves. They're both as crazy as we are. They understood our vision: future-classic bangers."
Finding a kindred creative spirit, Overcoats cranked out sticky sweet pop subversion tightened up to Swedish standards under a Seattle grunge haze – all initially born out garage band demos of guitar and voice, made in those apartments. Overcoats introduced this body of work with "The Fool." Neon synths, disco beats, and a hummable bass bop glimmer between catchy confessions such as "Somedays, I'm a warrior. Somedays, I'm out of my mind." It culminates on an immediately irresistible gang vocal chant upheld by glitchy distortion.
"We wrote it based on 'The Fool' tarot card," says JJ. "It signifies taking a leap of faith and jumping into the unknown. Conceptually, it felt like the beginning of the project. We wiped the slate clean and decided to jump. That's why the video includes the footage of us shaving our heads. We're 'The Fool'; we're making our leap." "It's an empowering message," continues Hana. "I don't need to be defined by the opinions of others or go with the status quo; I can be myself."
Rattling percussion and resounding keys underscore "Leave If You Wanna," which builds towards a melancholically danceable bridge. JJ states, "It's about stubbornness and ego that will get you in a lot of trouble in fights with your partner, family, or anyone. Perhaps, it's the doubt that creeps in after you jump."
"Keep The Faith" hinges on fuzzed-out nineties guitars and a hunkering drum roll as it transmits a stark valentine between the battle. "It's a straight-up love song," Hana goes on. "We decide to let our armor down, because you've got to keep the faith."
"Fire & Fury" encapsulates many of the themes. JJ writes, "It's a battle-cry against climate change and the myopic vision of those in power. It's also an intimate look at a perpetual fight with your partner." Hana responds, "Through the darkness, there is light. We have to have hope even as the world around us appears to crumble or go up in flames." The track remains dark and brooding as well as hopeful and anthemic. An understatedly pop pre-chorus mounts in the background. Soon, a thunderous kick drops into a wall of guitars and synth bass as the duo scream, "There's a fire, there's a fury. Sky is falling, but we'll get through it."
At some point, all ten songs incorporate the word "Fight." The title track sums up the vision as a whole. "It's representative of what the story is," explains Hana. "The word manifested itself in every lyric, but it goes back to our first call about the theme. Late one night, JJ called me and said, 'I wrote something, I think it's called 'The Fight'. It applied to everything we felt. The more the shit hit the fan, the more it became so relevant." When Hana heard the song she said, "'The Fight,' – that's what this story is called." And then, they both cried.
" Each song on this record draws on the concept of fighting - whether it's a fight with a significant other, a fight for rights and representation in politics, or a fight against inner demons," says Hana.
Overcoats draw the same unfettered emotion from listeners. Since forming out of a Wesleyan dorm room in 2015, Hana and JJ quietly molded provocative pop into power. YOUNG stood out as "one of the Top 5 bestselling albums from a debut artist on an independent label in 2017," bowed at #4 on the Alternative New Albums Chart, and landed at #12 on the Heatseekers Chart. Billboard touted YOUNG among "The Best Albums of 2017 – Critics Pick," and NPR Music named it the "#4 Album of 2017" in addition to praise from New York Times, NPR, Entertainment Weekly, and more. Additionally, they toured alongside Mitski, Tennis, Rhye, Matt Corby, The Japanese House, and Joseph.
By crafting and recording The Fight, they continue their journey, encouraging listeners to fight alongside them. "I want people to feel revved up," Hana leaves off. "I want them to feel like things they thought were futile are possible. I want them to feel excited for the future. We have to keep trying. In trying, I want people to feel powerful in who they are."