Buscabulla
Sun,
Nov 21
Doors:

7:30 pm
|
Show:

8:00 pm
Tickets: $17 ADV - $20 DOOR
Ages 21 and Up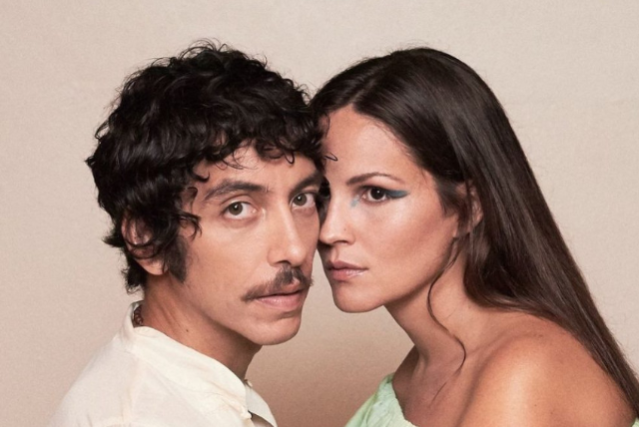 Another Planet Entertainment and The Independent are committed to producing safe events. All patrons attending events at The Independent are required to show proof of full vaccination (must be 2 weeks past final dose) OR a negative COVID-19 test within 48 hours from the time of entry to the venue. For more information, visit our
Health & Safety
page.
* Policy is subject to change
Artists
Buscabulla
Like generations of Puerto Ricans before them, Raquel Berríos and Luis Alfredo Del Valle of experimental pop duo Buscabulla moved to the mainland United States to hustle for their dreams, but a longing for their island ran deep, never escaping their thoughts during the decade they resided there.
It was in New York City that the Buscabulla sound was forged, enthralling growing audiences with its elevated bedroom productions and unique juxtaposition of stylistic highs and lows: Raquel's textured, high-pitched vocals counterpointed by Luis Alfredo's poignant bassline; minimalist melodies that evoke throwback salsa and R&B; and whispery re-imaginings of catchphrases from 90s reggaeton and every-day island vernacular.
Buscabulla's first two releases – the self-titled debut EP (2014), produced by Dev Hynes and released by Kitsune, and EP II (2017) – garnered attention and a growing international hunger for the band, leading to performances in Mexico, Chile, Costa Rica and all over the United States, including appearances at South by Southwest and Coachella. Their song 'Métele' was featured in the award-winning documentary 'Mala Mala' about the Puerto Rican transgender community, and they were profiled by the New York Times, NPR, and Rolling Stone, not only for their music, but also as co-founders of the non-profit PRIMA (Puerto Rican Independent Musician and Artists) Fund, whose ongoing mission is to sustain the independent music community in Puerto Rico through micro grants, showcases and opportunities for visibility.
However despite their successes abroad, in early 2018, in the wake of Hurricane María having wreaked havoc on an island already immersed in economic disarray, Raquel and Luis Alfredo's longing for their native home became too much to ignore, and they made the decision to move back to Puerto Rico. It was in this context and during this transition home that Buscabulla (slang for "looking for trouble" or "troublemaker") wrote their first full length album, Regresa, released on Ribbon Music in May 2020.
Full of angst and an underlying sense of loss, Regresa — which means "return" or "to come back" — is a bittersweet, introspective, eye-opening journey. "The album reflects the joys of being back but it's also melancholic," says Raquel. "You feel like a stranger in your own home because the island is going through very hard, weird times. Most people our age have fled. We have also changed after being away for so long."
The album, recorded in its entirety in Raquel's and Luis Alfredo's home studio in Puerto Rico, is an emotional roller coaster in which they face and ponder the issues affecting them and Puerto Rican society at large: the frustration at the lack of opportunities for locals while tax breaks lure rich investors, self-doubt and anxiety, even the rise of religious fanaticism.
Buscabulla also explores new rhythms and references in this album, with Raquel's spellbinding voice taking a forceful center stage. Opening song 'Vámono' is a cathartic call to action with rousing marching band beats, setting the tension that permeates the rest of the tracks. 'El Aprieto' is an existential cry inspired by 1970s Somali funk, as is 'NTE', which also fuses house elements as an invitation for danceable surrender. Regresa has twisted, electronic guajiras, modern R&B tracks, and also dystopian boleros such as 'Club Tú y Yo', the first Buscabulla song completely written by Luis Alfredo and featuring an orchestral arrangement from Helado Negro. "It's about our own personal isolation upon moving back home and the struggle to keep love alive in an increasingly lonely and uncertain world," he says. Brooklyn-based R&B artist Nick Hakim makes songwriting contributions to both "Mío" and "Volta", and in a vulnerable breaking point in the album, Buscabulla invokes guidance from iconic Puerto Rican chanteuse Nydia Caro, who makes a spiritual and prophetic appearance in 'Nydia'.
'Ta Que Tiembla' serves as the closing bookend on Regresa. It sheds all the album's existential melodrama for a bold, new-found confidence, similar to the spirit in 'Vámono' but tougher and grittier. Inspired by early 2000's Latin club jams, 'Ta Que Tiembla' is about a looming catastrophe brought on by a natural or other-worldly calamity and how we must never surrender, even in the face of imminent doom.
In Regresa, Buscabulla ultimately calls for self-reflection, awakening and perseverance in the midst of an uncertain future. Says Raquel, "Regresa is about self-acceptance of oneself with all our imperfections, and the acceptance of coming back home, with all its flaws."