Booster Required - On Sale 1/14 at 10am!
BROODS
Tue,
Jun 14
Doors:

7:30 pm
|
Show:

8:00 pm
Tickets: $35 ADV - $40 DOOR - $109 VIP
Ages 21 and Up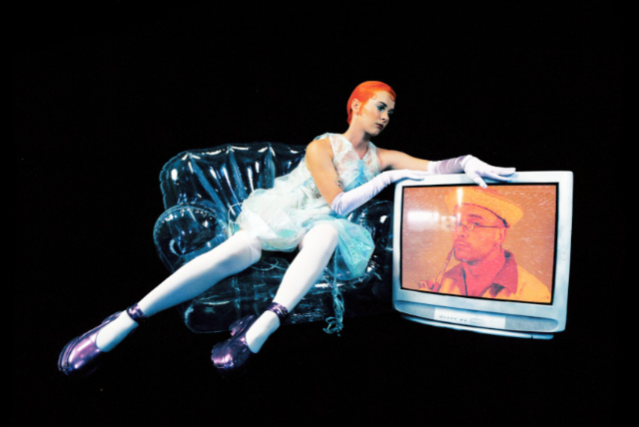 Another Planet Entertainment and The Independent are committed to producing safe events. The City and County of San Francisco has mandated that all patrons attending events at The Independent are required to show proof of full vaccination AND if eligible, proof of vaccine booster administered at least one week prior to event. Masks are also required. For more information, visit our Health & Safety page.

* Policy is subject to change

--

Broods Meet & Greet Package
- One general admission ticket
- Early entry into the venue
- Exclusive meet & greet with Broods
- Personal photograph with Broods
- Specially designed Space Island Kaleidoscope (exclusive to VIP buyers)
- Exclusive Broods cinch bag
- Official meet & greet laminate; autographed by Broods
- Limited availability
Artists
BROODS
The fourth full-length from BROODS, Space Island is an exploration of grief and all its many dimensions: its unpredictable nature and refusal to follow any linear path, its incredible capacity to bring great clarity and transformation. In keeping with the New Zealand-bred duo's unfettered imagination—an element they've brought to multiple platinum- and gold-certified records so far—the album's 10 tracks exist in a surprisingly radiant sonic realm, its aesthetic equally inspired by '60s sci-fi B-movies and the balmy exotica of composers like Les Baxter. As a result, Space Island introduces a dazzling new intensity into BROODS' atmospheric indie-pop while providing a powerful conduit for catharsis.

The most high-concept output yet from BROODS—a ten-time New Zealand Music Award-winning act who've amassed over a billion streams to date, collaborated with Lorde and Tove Lo, toured with HAIM and Taylor Swift, and taken the stage at major festivals like Coachella and Lollapalooza—Space Island came to life during a period of serious upheaval for lead vocalist Georgia Nott. Having married at the age of 21, she went through a difficult divorce soon after the release of BROODS' previous album Don't Feed the Pop Monster (a 2019 effort that led to appearances on "Late Night with Seth Meyers" and "The Late Late Show with James Corden"). As Georgia turned to songwriting as a means of processing her grief, she and her brother/bandmate Caleb Nott discovered an unlikely but wholly fitting vessel for that emotional outpouring. "One thing about the experience of grief is that it makes you feel like you're a bit out of orbit, or isolated in a very big feeling," says Georgia. "The more we figured out the strange logic of Space Island, the more the music started to reflect what was happening in the lyrics."

In sculpting the forward-thinking yet nostalgic sound of Space Island, BROODS mostly worked on their own in their home studio, occasionally joining forces with friends/producers like Leroy Clampitt (Ashe, FLETCHER) and Stint (Santigold, Carly Rae Jepsen). Crystallized in a gorgeous constellation of sonic details—otherworldly beats, swooning guitar tones, effervescent synth lines—the album emerged from a period of unbridled experimentation that involved abundant use of Caleb's newly purchased Farfisa organ. "I bought it just for the album," he points out. "It sounds just like a '60s Italian race car; right away it just shoots you off into space." Thanks to that free-flowing approach, Space Island bears a kinetic energy that BROODS view as crucial to its impact. "The aim was to make this album a very visceral experience," says Georgia. "When you're in that grief process, your whole body is in it—the feeling is so much deeper and more ambiguous than anything that can be explained in words alone."

Referring to Space Island as a "safe place you retreat to and go inward, exploring the cosmos of yourself," Georgia also found that the album's conceit allowed for a more subtle articulation of her most complicated emotions. "Fantasy is a nice thing to lean on when you're talking about something quite heavy, because it helps you to get really vulnerable without having to give everyone a literal play-by-play of what you've been through," she says. To that end, songs like "Heartbreak" embody a certain enchanted quality, even as they delve into complex subject matter. "When we wrote 'Heartbreak,' I was flustered because I wasn't constantly moving forward in the grieving of my relationship," says Georgia. "The song ended up being a little mantra to let myself fall apart, because that's an essential part of metabolizing your grief." With its serpentine grooves, shimmering textures, and synths that conjure a bit of space-age psychedelia, "Heartbreak" fully epitomizes the prismatic musicality at the heart of Space Island. "We really wanted to create wall-of-sound kind of feeling with that one," notes Caleb, naming such playfully inventive artists as Danger Mouse and Gorillaz among his key touchstones in the album's production.

One of the most gripping moments on Space Island, "Like a Woman" encompasses a wildly shapeshifting sound. After opening on a sudden burst of harmony, the track retreats into desolate stillness before building to a gorgeously explosive bridge. Meanwhile, Georgia's voice drifts from tender to soulful to impossibly fragile in its potent expression of the pain of being undermined. "To me that song very much reflects what it feels like to talk about things that have hurt you," she says. "You might start off like, 'I think I'm all right. Although it did hurt. It hurt a lot, actually. I mean, yeah—it really fucking hurt.' Or at least that's how I tend to talk about these things."

With Caleb describing Space Island "an abstract form of Georgia's diary," BROODS examine everything from anger to sorrow to self-discovery, framing each emotional state in a fantastically unexpected musical setting. In a particularly brilliant move, "Gaslight" unfolds as one of the album's most delicate and dreamy songs even as its lyrics closely document the torment of self-betrayal and toxic manipulation. On "I Keep," the duo's longtime collaborator Tove Lo joins in for an unsparing piece of self-reflection whose luminous vocal work induces a sort of hypnosis. "I wrote that song thinking about how I'm like a moth that flies into the same porch lamp and dies the exact same way every night, then comes back to life and just does the same thing over and over," says Georgia. "I told Tove about it and she said, 'I know just what you mean,' which I knew she would. It's kind of a pattern with us that we always end up writing about mental health together." And on "If You Fall in Love," Space Island closes out with its most upbeat track, a dance-ready reverie lit up in lush slide guitar and brightly throbbing beats. "That's the acceptance song, really—it's the moment of saying, 'Here I am, here's what I've learned about myself,'" Georgia reveals. "I love how it feels like lifting up into some weird other dimension."

In bringing Space Island to life, BROODS conceptualized an entire visual world for the album, including a series of B-movie-inspired videos shot on 35mm and 16mm as they journeyed through their homeland. "It felt like we were living inside that world as we building it, and now we can't wait to expand it even further with the live shows," says Georgia. And by dreaming up such an immersive body of work, BROODS have ultimately created something of a charmed haven for all those who need healing. "For me this album captures a time when I really leaned on music to help myself understand what was happening in my brain and my body and my heart," says Georgia. "What's so exciting about sharing it is the idea of someone else using it as a tool to process their own problems. I hope it helps them to face the things they need to face, or even just feels like a nice soft hand to hold and help them deal with whatever they're going through."