Rescheduled From 3/23/22
Strawberry Guy
Fri,
Sep 30
Doors:

8:30 pm
|
Show:

9:00 pm
Tickets: $20.00
Ages 21 and Up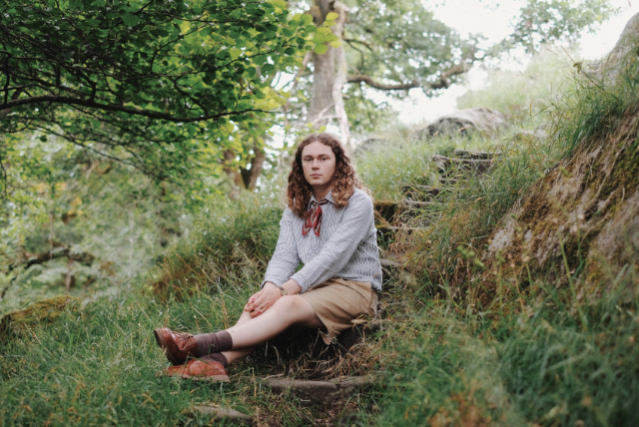 Another Planet Entertainment and The Independent are committed to producing safe events. Please review our most up-to-date COVID-19 policy requirements for entry on our Health & Safety page.
* Policy is subject to change

--

Strawberry Guy at The Independent originally scheduled for March 23, 2022 is rescheduled to September 30, 2022. All tickets purchased for the originally scheduled date will be honored at the new date. Should you be unable to attend the new date, please return to the point of purchase no later than August 12, 2022 to request a refund.

Please check our website, theindependentsf.com, for updates on the status of this show. For any questions, please reach out to us at info@theindependentsf.com. We thank you for your understanding and we look forward to seeing you at the show!
Artists
Strawberry Guy
Tiptoe between the toadstools of Liverpool's city parks, and amongst the foliage you might find a Strawberry Guy, contemplating his next chord-progression. Composing hi-fi symphonies from within his humble abode, the Welsh-born songwriter is ready to share the fruits of his labour with debut album Sun Outside My Window. A timeless vista of ethereal balladry looking towards 19th Century musical maestros and works of art, it brings new meaning to the term 'Modern Classic' and is the most optimistic of lockdown records yet.

"It's about seeing the simple things in life and them making you happy," tells Alex Stephens, the Guy behind the Strawberry. "I remember this day when I was really down… looking out the window, the sun beaming in was beautiful, it made me want to go outside – it was simple but made me so happy in that instance."
A one-man impressionist, painting majestic soundscapes, Strawberry Guy blends truthful lyrics with lush arrangements to conjure new emotive worlds. Inspired by composers of the Romantic period, or Debussy, Ravel, and other classical artists of the 1800s, his wonderland moves like a Monet painting where arpeggios dance between meadows of dazzling dynamics and dramatic key changes. As former keyboard player of The Orielles and Trudy and The Romance, the light through his floor to ceiling windows has caused a dramatic Greenhouse Effect and now ripening on solo terms, his innocent uploads of 'Without You' and 'F-Song' comfort 2 million Spotify listeners a month. 'Mrs Magic' has received 30 million streams, landing at #13 in its chart and countless fan-created videos have appeared on YouTube. "Throughout history composers have tried to capture emotion, painting their own impressionist pictures with musical brush strokes… I guess I'm just trying to do the same and people enjoy that," he suggests modestly.
Impresario at the helm of his own imaginary orchestra, Sun Outside My Window has evolved from improvised piano melodies, a practice honed through his classical training, and manipulating violin sound effects on the Nord keyboard. He has even surprised himself with the outcome after creating challenges to seamlessly flow from one chord to the next. Named by musical friends Her's after his impeccable taste in milkshakes, Strawberry Guy upturns 'bedroom artist' perception, as each idea is crafted into a widescreen wonder where vocals tag-team instrumentals and countermelodies flourish within the Georgian walls of his Liverpool flat's small space. "I want it to sound like I've squeezed an 80-piece orchestra into my room, and for listeners to wonder how all those strings got there," he says. "Working on the 4-part harmonies, the orchestra became real; I began believing in myself."
Imitating nature's effect on emotion, like 70s songwriters, or the fantastical soundtracks accompanying vibrant scenes in the Japanese animated Studio Ghibli films and video games, landscape is brought to the fore. Monet's picturesque Meadow at Giverny features as the album's accompanying artwork – perhaps a reminder of the rural Welsh countryside views through his childhood home's window; "I was inspired by how calm and peaceful the image felt. Its painted lines show real-life scenes in a magical way, which to me reflects my music." Elsewhere blossoming motifs depict the growth of a relationship ('As We Bloom'), capturing his 13-year-old self's obsession with the idiosyncratic harps of Coraline OST's 'Exploration' and offering an escape. "When I write, music becomes this meditative place I go to with heavenly images of natural beauty," he says of songwriting's healing power.
Just as the first Strawberry Guy EP Taking My Time To Be offered a slowing down for the soul, Sun Outside My Window was musically unhurried, written and recorded over 2 years. The songs transpose to higher keys and pivot with chordal climax and dramatic crescendo ('When Morning Comes') or vocals boldly step forwards capturing grown confidence in becoming comfortable in himself without the crutch of relying on others ('Company'). Like his love for the understated cinematic aesthetic blend of Sigur Rós and symphonic magnificence of Holst's suite of Planets, every part is propelled by emotion. "'Venus, the Bringer of Peace' is incredible," he says. "Those strings, flutes, harp… the way they encapsulate each planet's persona is amazing." Meanwhile piano-led finale 'A White Lie', recorded at 2am in the morning, offers a Strawberry Guy first as keys and reverb-free vocals were laid down in one take. "Recording as a lone berry meant I could run with my emotions in the moment and deliver something true; it would have been an entirely different album had it been recorded in a studio," he says.
Modern Classic? Only time will tell. For now this Guy's happy-sad world is here to get the juices flowing and with, pandemic permitting, a US tour in 2022, life looks a whole lot sweeter. Until then, take it slow, be at one with the wilderness and remember, when life gives you lemons, swap them for Strawberries.