State Of Flight
Boy & Bear
Fri,
Sep 9
Doors:

8:30 pm
|
Show:

9:00 pm
Tickets: $25 ADV - $30 DOOR
Ages 21 and Up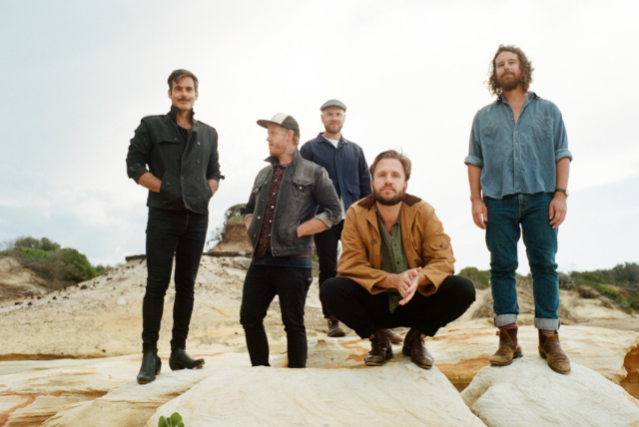 Another Planet Entertainment and The Independent are committed to producing safe events. Please review our most up-to-date COVID-19 policy requirements for entry on our Health & Safety page.
* Policy is subject to change
Artists
Boy & Bear
Staying power is the type of power few artists can manage to successfully retain.

For Sydney's Boy & Bear however, theirs is a legacy that has continued to flourish thanks to a committed approach to their craft, and consecutive releases that have had the ability to strike a chord with audiences nationwide and beyond.

Forming in 2009, as Australian indie music was enjoying an early apex with fans and industry alike, Boy & Bear grew from a solo project for songwriter Dave Hosking, into a fully-fledged musical project that would see Hosking's initial idea become home to Killian Gavin, Tim and Jon Hart, Jake Tarasenko and Dave Symes.

Early support via triple j and Triple J Unearthed propelled Boy & Bear into the national Australian music consciousness, leading the group to the release of their acclaimed, double-platinum selling debut album Moonfire in 2011. The record, featuring the smash hit 'Feedling Line,' earned Boy & Bear five ARIA Awards and three placements in the triple j Hottest 100 of 2011.

The success of Moonfire would set an early precedent for Boy & Bear in terms of musical impact, though it was just the beginning when it came to creative frontiers the band was yet to cross. Making music and touring as a five-piece following their Moonfire era, Boy & Bear continued to carve out a place all their own for themselves: their music was as immersive as their peers, and yet in Hosking's emotive and wide-reaching songwriting skills, Boy & Bear established themselves as contributors to the broader Australian songbook.

Boy & Bear's career has gone on to earn them two #1 ARIA charting albums -- Harlequin Dream (2013) and Limit Of Love (2015) -- the former being the second Boy & Bear studio album to hit Platinum status.

And all the while, the band has grown and developed on stages around the world, as they have accumulated a fierce and long-standing fan base. Multiple world tours, as well as dynamic performances at some iconic Australian sites such as the Sydney Opera House, Falls Festival and Splendour in the Grass, are just some accomplishments that Boy & Bear hold dear as a performing unit.

Though the musical climate around them has changed over the years, as has their influences and circumstances, Boy & Bear's resolve when it comes to making music has only become stronger. Recent years have seen the band fuelled by new creative inspiration: 2019's Suck On Light showing fans a reinvigorated Boy & Bear, while 2020's At Golden Retriever Studios was a moment for the band to revisit their expansive catalogue through the delivery of a series of stripped back cuts of beloved career favourites.

Now, a new chapter awaits.

The 2021/2022 summer saw Boy & Bear perform to over 65,000 people. An opportunity for reconnection, but also an opportunity to point towards something new from Boy & Bear, indicating new music was on the way.

Australian music has never been more ready for Boy & Bear; there hasn't been a more perfect time for their charismatic and uniquely warm and enveloping presence to return.
LANKS
From his beginnings studying jazz at the pres5gious Victorian College of the Arts, LANKS has grown steadily into a prolific songwriter, producer and ar5st in the Australian music scene. He has toured with the likes of Rufus Du Sol, Glass Animals, Vera Blue, Ry X, Broods and has had +100 million streams and a pla5num record across his 4 albums, 6 EP's and countless collabora5ons.
ASer moving from Australia to the US in December, 2019 (3 months prior to the COVID outbreak), he went into a kind of hiberna5on period alongside much of the world.
In 2021 he re-emerged with a double album, SPIRITS PT.1 + 2, working with diverse collaborators such as Alice Ivy, RY X and HWLS (a regular Flume collaborator) and the album went on to receive nomina5ons for the coveted AMP prize in AUstralia and an electronic album of the year nomina5on at the AIR Awards.
Described by Gemma Pike from triple j as a "triple threat" - a strong topline writer, vocalist, and producer, 2022 holds many exci5ng developments ahead for this Brooklyn-based Australian creator.