Brijean
Special Guest The Seshen
Salami Rose Joe Louis
Stanley Ipkuss (DJ)
Thu,
Aug 11
Doors:

7:30 pm
|
Show:

8:00 pm
Tickets: $20 ADV - $25 DOOR
Ages 21 and Up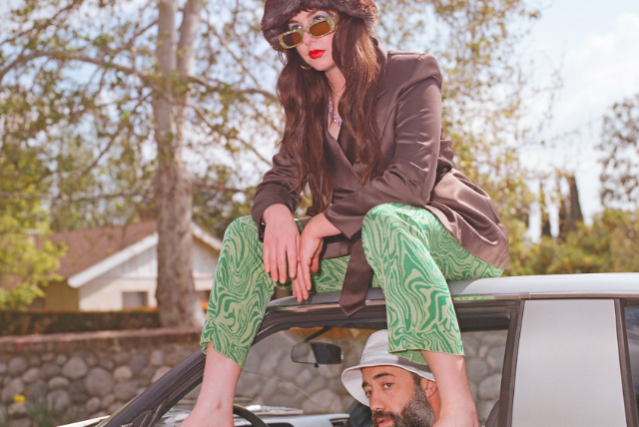 Another Planet Entertainment and The Independent are committed to producing safe events. Please review our most up-to-date COVID-19 policy requirements for entry on our Health & Safety page.
* Policy is subject to change
Artists
Brijean
Brijean is the duo of percussionist and singer-songwriter Brijean Murphy and multi-instrumentalist and producer Doug Stuart, and together they make dance music for the mind, body and soul, evoking 70s disco, 90s house and sly pop sensibilities.

Their debut album Feelings arrived via Ghostly International in February 2021, a golden-hued dream pop tropicalia of dazzling beats and honeyed vocals; remixes from Buscabulla, Sam Gendel, DRAMA and Rick Wade followed.

In August of 2022 they will release Angelo – an EP, named after Murphy's recently purchased 1981 Toyota Celica, featuring nine songs Brijean have crafted and carried with them through a period of profound change, loss, and relocation. It finds Brijean Murphy and Doug Stuart processing the impossible the only way they know how: through rhythm and movement. The months surrounding Feelings, which celebrated tender self-reflection and new possibilities, rang bittersweet with the absence of touring and the sudden passing of Murphy's father and both of Stuart's parents. In a haze of heartache, the duo left the Bay Area to be near family, resetting in four cities in under two years. Their to-go rig became their traveling studio and these tracks, along with Angelo, became their few constants. Whereas Feelings formed over collaborative jams with friends, Angelo's sessions presented Murphy and Stuart a chance to record at their most intimate, "to get us out of our grief and into our bodies," says Murphy. They explored new moods and styles, reaching for effervescent dance tempos and technicolor backdrops, vibrant hues in contrast to their more somber human experiences. Angelo beams with positivity and creative renewal — a resourceful, collective answer to "what happens now?"
Special Guest The Seshen
The Seshen is a San Francisco Bay Area six-piece band whose songs exist between the lines: in the space between waking and dreaming, ego and collective consciousness, and that blurred horizon where earth meets sea meets sky.

Anchored by Lalin St. Juste's sly, silver vocals and cerebral yet danceable rhythms from producer-bassist Akiyoshi Ehara, their music pulls from a deep well of electronic influences, R&B, and indie rock. Drummer Chris Thalmann, keyboard/synth player Mahesh Rao, percussionist Mirza Kopelman, and sequencer Kumar Butler make the music three-dimensional, blending live and digital instrumentation to create the band's signature transportive sound. Since 2012, the Seshen's live show has earned them critical acclaim and a dedicated fanbase on multiple continents, as they've shared stages with the likes of Hiatus Kaiyote, PetiteNoir Tune-Yards, and Thundercat.

"A lot of artists tout, in their minds at least, that they're the epitome of cool. But few exemplify that through their music like The Seshen." – MASS APPEAL

"The Seshen continue to impress with every release." – OKAYPLAYER

"It's always cause for celebration when there's new music from The Seshen" – AFROPUNK

"A resounding success and refreshing listen…" BANDCAMP

"Beautiful, soulful, and just a little otherworldly…Lalin St. Juste's voice is the perfect counterpoint, pouring through the spaces between keys and loops like honey" – POPMATTER
Salami Rose Joe Louis
Salami Rose Joe Louis is a multi-instrumentalist female producer from California and a signee to Flying Lotus's independent label Brainfeeder. Drawing influences from jazz, soul, hip-hop, pop, Shuggie Otis, Captain Beefheart, Stereolab, and R. Stevie Moore, she creates a blend of experimental dreamy sounds with jazz influenced vocals and piano. She released her debut album on Brainfeeder "Zdenka 2080", a conceptual sci-fi album that has been described as a "stunning interdimensional travel themed new album" by Gigwise. "Zdenka 2080" was nominated for Giles Peterson's Worldwide Awards for best album of 2020. She also had the honor of joining Flying Lotus' Flamagra Tour and joined Cinematic Orchestra's European tour and Toro y Moi's "Outer Peace Tour". She will be joining the TuneYards US. tour this August. After a couple years of touring as a singer/instrumentalist with other bands and collabing with groups such as Bizarre Ride (Pharcyde), Dj Numark, and Starro, a bandmate gave her an MV8800, catalyzing a deep dive into the production world, self recording and mixing her albums on the MV, "Son of a Sauce", "Zlaty Sauce Nephew", "Zdenka 2080", and "Chapters of Zdenka". Drawing from her studies in planetary sciences, she creates a unique experience filled with space inspired sounds and galaxy chords:)
Stanley Ipkuss (DJ)
Stanley Ipkuss is a beat maker from Oakland, California. In his free time he enjoys collecting records, clothes, samplers and video games. He has previously worked with artists Fly Anakin, DJ Spinna, Danny Watts, Ahwlee, ewonee & many more. His latest project "Among Other Things," was released on January 20, 2022 through the Oakland cassette label Hot Record Societe. The album is entirely produced by him. Currently his go to music equipment is the MPC Live 2 and Roland's SP-404 MK2.