Voxtrot
Fri,
Sep 23
Doors:

8:30 pm
|
Show:

9:00 pm
Tickets: $29.50 ADV - $30 DOOR
Ages 21 and Up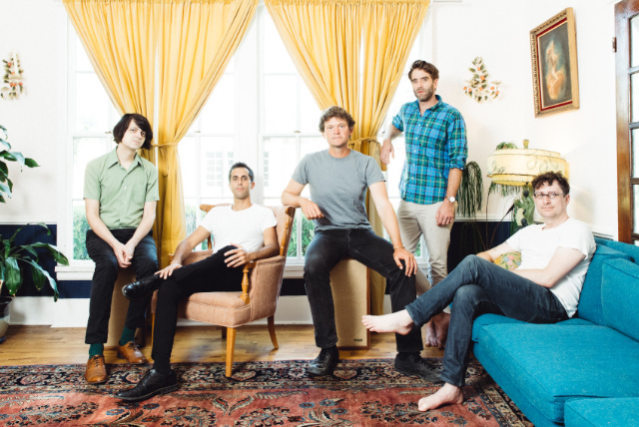 Another Planet Entertainment and The Independent are committed to producing safe events. Please review our most up-to-date COVID-19 policy requirements for entry on our Health & Safety page.
* Policy is subject to change

--

Please note: A delivery delay has been set for this show - tickets will be sent two weeks prior to show date.
Artists
Voxtrot
For a long time, Ramesh Srivastava wanted to leave the past in the past. It's been over a decade since Voxtrot, the Austin-based band he fronted between 2003 to 2010, called it a day, and the frontman was happy for much of that time to keep the five-piece as a memory. In fact, for most of it, he's been plagued by varied but recurring dreams in which Voxtrot – completed by lead guitarist Mitch Calvert, bassist Jason Chronis, keyboardist Jared van Fleet and drummer Matt Simon – were onstage and things weren't going so well. In one instance, the band might have forgotten the songs. In another, nobody cares about the band anymore and they're playing to an empty house. Whatever the situation, his dreams have always been anxiety-ridden and negative. Until recently.
"About a year ago," he says, "I had a dream where we were onstage and it was really positive. And there was such a strong and palpable feeling of love in my heart that when I woke up, it was still with me. I switched on my phone and started looking at things tagged with Voxtrot on social media – like teenagers now covering our songs, people with Voxtrot tattoos – and just went down this internet rabbit hole that made me realize how much love there still is for the band. I was seeing it from this really wonderful viewpoint, and that morning – for the first time since the band broke up – it seemed very, very obvious that we should do this."
'This' is both the band's first tour since 2010, and the release of two records. There's Early Music, a collection that brings together – and on vinyl for the first time – the band's first two EPs, 2005's Raised By Wolves and 2006's Mothers, Sisters, Daughters & Wives. There's also a B-sides and rarities compilation called Cut From The Stone, which will be released a little further down the line. Both records feature cover art by longtime Voxtrot collaborator Annie Gunn, which serves as a visual representation of these songs and drives home just how relevant and important their sense of hope and wonder remains today. That was an idea cemented in Srivastava's mind through his involvement in Austin's ayahuasca community.
"At one the ceremonies recently," he says, "this Brazilian elder in the community was talking about how this is a very dark time for humanity, and how individual people need to be the seed of light that, even in this dark time, would eventually grow and lead the world out of the darkness. And I like the idea of bringing that light from what, to me anyway, felt like this easier time, back into this difficult time."
That's exactly what these songs do. To be fair, it's what they always did, but their light and warmth feels more emphatic now, more necessary. For while there's always been a tender, melancholy undertone to Voxtrot's songs, there's also a sense of joy and positivity woven into their fabric. Indeed, whether in the wistful yet defiant jangle of "Raised By Wolves" or the urgent, emotional turbulence of "Missing Pieces", the jittery existentialism and uncertainty of "Fast Asleep" or the gentle but cold optimism of "Four Long Days" – that light is never entirely out of sight. What's also remarkable is just how well the two EPs complement each other. They weren't conceived to do so, but, released just a year apart, in this new incarnation they truly do feel like they belong together – two sides of the same shimmeringly beautiful whole. It's one that inhabits both the present and the past simultaneously.
"I really feel," says Srivastava, "that these songs exist out of time. It's this thing that that still feels universal, still feels relatable, and, much to my pleasant surprise, still touches new people of all ages as the years go by. I honestly don't know what the future holds, but it definitely doesn't feel like this is just a dead band that's revisiting their glory days. And even though I don't know what's going to happen, I love the energy that this contains."
Indeed, these songs – both those on Early Music and Cut From The Stone – feel very much alive. The emotion in the ten tracks on the latter feels somewhat more despondent, however, not least on "Whiskey And Water" – even though, newly remixed at the right speed, it's slightly faster than the version that was originally released – and the slow, sad chug of "Warmest Part Of The Winter". Probably the most significant song on that record, though, is "Dream Lives Of Ordinary People", the dreamy, beautiful B-side to the band's last US single, Berlin, Without Return....
"That's maybe the only Voxtrot song that mentions being gay," Srivastava admits, "although I never really thought of that at the time. It came out towards the very, very end of us, before we called it quits, and in my mind we were at such a low point of visibility compared to how it had been three years before that I didn't think of it as a momentous statement. Now, I think it's really important for people to know that I'm gay. I didn't ever deny it, and I wasn't in the closet, but back then I would have said it's not that important. But that must mean I had more shame about it than I realized, because in retrospect it's obviously important. It's so essential for people to see, first of all, that people in bands are gay, but also that the lead singer in an indie rock band is gay, because people never assume that that's the case."
It's something that adds another layer of significance to these releases, and to Voxtrot's return. Because that's exactly what this is – a return. Because even if their songs are the perfect blend of wistful melancholy and forlorn (if hopeful) timelessness, and even if future plans are uncertain, Voxtrot nevertheless exists in the present tense again. Not just for the band's fans, either, but for Srivastava himself, who has, in tandem with his own solo career, launched himself wholeheartedly into this reawakening.
"It's been a very work-intensive process," he explains, "of finding the old tapes and the old photographs and then creating new cover art and trying to do everything as artfully as possible and as consistently as possible with the way everything else was presented back then. But it's been a much more rewarding experience than I would have expected. I thought it would be nice work, but work nonetheless, but really it's felt like a very joyful experience. It's been incredibly heart-opening for me to see so much magic that I really didn't know was there."