OSL Night Show - Vaccination + Booster Required
Phoebe Bridgers (Acoustic)
Fri,
Aug 5
Doors:

9:30 pm
|
Show:

10:00 pm
Tickets: $170 PLAT
Ages 21 and Up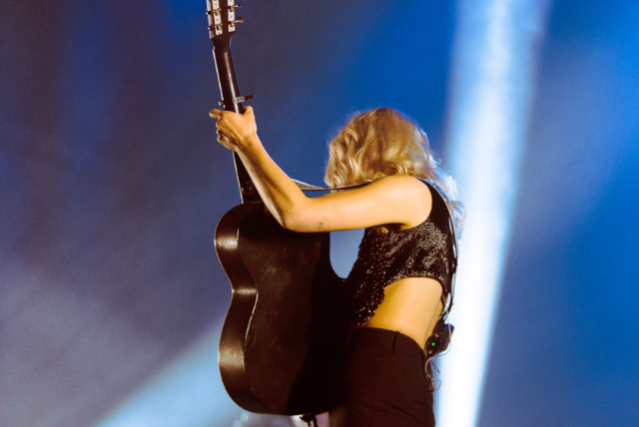 Per the artist's request, all patrons attending Phoebe Bridgers at The Independent on Friday, August 5, 2022 are required to show proof of full vaccination plus booster. Masks are also recommended.

* Policy is subject to change

Proof is one of the following:
Artists
Phoebe Bridgers
"Yesterday, Tomorrow."
The house is exactly what you'd expect: practically a studio apartment except it stands on its own, draped in honeysuckle and Dutchman's pipe; a yard of dune sedge and stone. Her dog is buried in the garden along the eastern wall; sometimes, she wonders if the ground will bloom half-a-dozen of him under a certain kind of moon. In the morning the light creeps sideways through the windows and lights her up from the chest down, her head nestled in the shadow. Sometimes she finds herself playing guitar before she has left sleep. Her hands strum but her mind is still dreaming. (It's her birthday, she's at the movies, the screen is a tidal wave, someone touches her leg, she wakes up with her fingers tangled in the strings and the kettle whistling.)
The house is haunted. It should go without saying, but it should be said anyway. The house is haunted, but no one knows anything about the ghost or how it messes with you, except for the fact that every time she goes away (to Texas, to Memphis, to Graceland, to Germany) she always ends up coming home again. It's the strangest kind of haunting. Everyone calls it, the house, the House of Punishment—more than one mistaken citizen has turned up looking for a similarly-named erotic dungeon on the other side of town—but the name is misleading. It is not a house where someone was punished, or a house where someone might be punished, but a house that replaces punishment; instead of feeling guilt or regret you must play quietly in any corner, and eventually the emotion will resolve itself.
Inside, every door frame is notched: the respective growths of former tenants, friends. On one of them, a place where—deep in her cups—she'd measured her height as a full five inches taller than normal; only the next morning did she realize, cotton-mouthed, that she'd been standing on her toes when she'd slid the pencil over the apex of her skull. There had been a Murphy bed once, she was certain, and sometimes when she was very, very tired she would imagine her bed, which was not a Murphy bed, snapping her up into the wall. Next to her bed, in her nightstand drawer, lived the following things: crumpled receipts, red yarn, eight dollars, a white lighter, two undeveloped film cameras, Grether's Pastilles in their old-timey tin, fistfuls of birthday cards with the shimmer worn off, a pocket-sized copy of the constitution, a pocket knife, a pair of swimming goggles, a pair of recording headphones, shoelaces twisted into a Gordian knot, an unpaid parking ticket, a strip of Peanuts Halloween stickers, an MRI request form from when she sprained her finger, colloidal silver (someone told her it would cure her cold; someone else told her it would give her Argyria), a map of Kyoto (she'd gotten bored at the temple), incense, her first fan letter (she promised herself she'd respond; she never did), a bunch of bolts, a plastic doll's hand, doggie bags (he'd died over a year ago), an unopened Replacements cassette, an unopened 23 & Me kit, an unopened fortune cookie, unopened pepper spray she doesn't trust herself to take out of the packaging. In a fake book on her desk—pleather-bound and conspicuously absent a title—she collects her used boarding
passes, old concert tickets, disconnected wristbands. It doesn't escape her notice that she can't throw anything away, that objects remain unopened, unresolved, untangled, unconsumed. She is always in the middle. She is never at the end of anything.
She lives near a hospital. All night, she hears sirens, imagines the people being transported to and fro, their bodies speeding along in the back of ambulances and their spirit trying to catch up. She makes jokes. "If I wake up, someone better be dying," she says, until one night she wakes up and feels it: someone's essence slipping past her on the way to somewhere else. After that, she thinks about the hospital as a metaphor, and considers the many ailments the metaphorical hospital could cure, the many symptoms it could treat: Imposter syndrome. Cabin fever. Foot-in-mouth disease. Word vomit.
She invites her friends—that is to say, her family—over for dinner. She has this one friend whose dad was really obsessed with blood—blood as in family, not the interesting kind of blood—and how it was thicker than water (ew), and then one day her friend looked up the actual expression and it was, The blood of the covenant is thicker than the water of the womb. Shit, right? Anyway, she makes a green bean casserole, which is demolished in short order, and hot rolls. Someone kills a pint of ice cream she's been saving. Someone else drinks a beer so hard it sputters, erupts. Someone else sits in the corner playing cat's cradle, waiting to feel the guilt lift from their sternum.
After that, the coven of her covenant goes out beneath the new moon; they journal and play Bright Eyes and Britney Spears and act out María Irene Fornés' plays and eat peaches. They lie on the grass and the stone and talk about the skies they were born under. They don't believe, really, that it makes a difference, but it's nice to think about. After all, everyone knows the world is ending. They've been told as much, and they can see it in the streets, and they know the world is irreparably fucked, but most importantly they feel it among themselves; they know this goodness cannot last forever.
She sits near them. They are together but at the same time they are alone, as we all are. Someone has put a braid into her hair; she's left toothmarks on someone else. Something moves through the empty house, less the ghost than the breath of the ghost. She tells her friends: "I'm not afraid to disappear." Someone laughs. Then, someone else opens their mouth, and something else climbs out.
Carmen Maria Machado, March 2020
Charlie Hickey
Nervous at Night
Charlie Hickey's debut album, Nervous At Night, began with a journey. Having grown up in Pasadena, in the quiet shadow of downtown LA, Hickey moved away to college at the same time that he got more serious about music, and found himself moving back and forth between his hometown and his newfound independence to play around with song ideas and demos with his friend and collaborator Marshall Vore. These two worlds reveal themselves in numerous forms across Nervous At Night, as Hickey explores life's graceless passage between teenage years and adulthood, and all of the noise that permeates
Born into a musical family, as a child Hickey would obsessively watch videos of his parents on tour with their old band Uma, learning all the lyrics that he loved but didn't understand. This introduction to music and songwriting sowed a seed, and Hickey was soon writing songs of his own, playing on the guitars that lay around him and singing about the little details of his school days. He continued this throughout his teen years, and the worlds he conjured becoming an outlet for his growing anxieties, which Hickey now understands to be Obsessive Compulsive Disorder. "It gave me a safe place to let my mind run wild and explore all its little corners," he says. "I still struggle with my mind but music has really made me a happier person."
Formed of eleven new songs and released in the early Summer of 2022 via Phoebe Bridgers' Saddest Factory Records, Nervous At Night is, of course, led by Hickey's remarkable voice, a voice that, like the best pop artists, holds the brave balance of singing fearlessly about your fears. Across the album, he lays out those fears, frustrations, and faith in friendships in richly detailed ways. While Hickey calls the album a pop record, he admits that sonically it moves in many directions, an amalgamation of his love for folk singers of yesteryear and more contemporary peers, from Taylor Swift and The 1975, to Elliott Smith, to Conor Oberst. Like those heroes, Hickey shares a clarity in his songs that is specific in its songwriting but still inviting, open and generous. Nowhere is that truer than on title track "Nervous at Night", a pop anthem that instantly joins the canon of the great Unrequited Love Songs, with a hook that dances over the song's anxieties, as Hickey sings how he "can't keep throwing rocks up at your window."
Nervous at Night shifts between quiet, heavy-hearted ballads and gleaming, hook-laden tracks. Album opener "Dandelion" is a winding, confessional monologue, built on a folk foundation but moving effortlessly into a shimmering pop dream. "Month of September" – which features a guest turn from Dawes' drummer Griffin Goldsmith – feels like the capturing of a moment ("In a few weeks we're going back to the studio to finish the record," Hickey sings,) but then subtly shifts to a reflection of the kind of anticipation that is so tightly bound to childhood; like counting down to the days to Christmas, like waiting in line for a rollercoaster. "Gold Line" arrives disguised as a windows-down singalong, and it's well built for that, but hidden underneath is a deeper layer, as Hickey sings about feelings bigger than he can control or resist.
The topsy-turvy narrative was only noticed by Hickey in hindsight when he stepped back to view this collection of songs as one whole body of work. "I only realized the theme in retrospect because they were written over a really long period of time," he explains. "But it is true that there's a thread of growing up running through it, also transitioning into adulthood and having your inner child still be a very big part of you."
This age of disconnection leaves its mark across Nervous At Night. Hickey admits that he often finds himself applying the lens of nostalgia to events as they happen, occasionally viewing the meaningful moments of his life as an outsider, acutely aware of how fleeting such sweetness can be. But there is community here too, a genuine sense of connection that holds Nervous at Night in place. Hickey grew up in the same neighborhood as Phoebe Bridgers, the two becoming close friends from the age of thirteen, and he says that he views his songs as taking place in such a suburb, one similar to the dream-like safe-haven of Pasadena.
And so we have "Planet With Water", a plaintive love song that sings of phone calls after school, of hearing a neighbor's TV through the wall. It's full of quietly fading evenings, the disorientating loneliness found in the yellow-glow windows of suburban homes, from the outside looking in: "I could stay here forever if I didn't know better," Hickey sings with a palpable ache.
Elsewhere "Mid Air" holds a similar weight in the pit of its stomach, Hickey singing of "spinning in mid-air, looking for somewhere to land, or some face to show up" as the song flourishes around his voice, delicately accompanied by guest turns from fellow LA musicians Harrison Whitford, Christian Lee Hutson and Mason Stoops.
"It feels almost too good to be true," Hickey says of the small crew of friends that assisted him on the record, who are also thriving on their own projects – from label boss Phoebe Bridgers and producer Marshall Vore, to the aforementioned Whitford, Hutson, and Stoops. "Growing up and being surrounded by the people who you think are the best songwriters in the world is intimidating but also really inspiring," Hickey explains. "It's amazing to have people around that are doing what you wanna do and even informing what it is that you wanna do."
Nervous At Night comes alive in its juxtapositions, chronicling the constant push and pull of life, both its stagnancy and motion in refreshing and honest ways. Chiefly though, this is an album about connection, how even through those struggles we rely on the people around us to keep moving forwards. "I'd like to write songs that are for everyone, that let people into my inner world while also hopefully making people feel less alone on their own. I hope that these songs can be there for somebody the way my favorite songs have been for me."