French Cassettes
Sat,
Nov 19
Doors:

8:30 pm
|
Show:

9:00 pm
Tickets: $18 ADV - $22 DOOR
Ages 21 and Up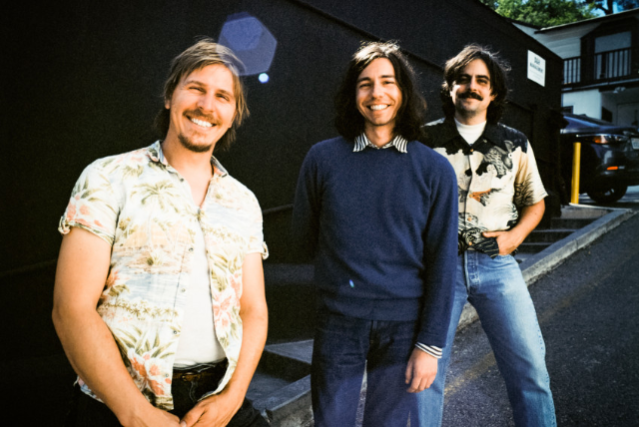 Another Planet Entertainment and The Independent are committed to producing safe events. Please review our most up-to-date COVID-19 policy requirements for entry on our Health & Safety page.
* Policy is subject to change
Artists
French Cassettes
French Cassettes music is filled with winding melodies that pop up unexpectedly but grab hold and don't let go... and may leave you asking "who needs hands with hooks like these?"
The harmony-driven power-pop quartet's new LP, Rolodex (Sophomore LP released on Tender Loving Empire), was conceived beneath a stairwell in the band's adopted hometown of San Francisco, where frontman Scott Huerta spent months staying up until 4 am, obsessing over elaborate demos that would eventually become his band's sophomore album. "I adopted the mentality, which was probably unhealthy, that every song I wrote needed to be my favorite song," he remembers. "I lost my mind so many times in the middle of the night."
The album was self-recorded by lead guitarist Mackenzie Bunch in just about every corner of the Bay Area, and the songs that were eventually stitched together are hook-filled and rooted in pop. But they're also layered and intricate recordings: complex vocal harmonies and counter-harmonies, Rob Mills' inventive percussion, Thomas' (Scott's brother) honey-coated basslines, and every shade of clean and fuzzy guitars stacked up like an orchestra. These uncommonly majestic, esoteric pop forms serve as the perfect delivery service for Huerta's playful and verbose lyrics, which are often presented as semi-autobiographical puzzles.
Taken together, the eight tracks and 24 minutes that make up Rolodex are an epic statement of purpose in a decidedly taut package. One that brought a band back together, more mature and more ambitious than ever.
Spacemoth
Devotion to music has driven Spacemoth's Maryam Qudus—a performer, composer, and now sought-after producer—for as long as she can remember. At age twelve, she traded chores for guitar lessons; at sixteen, she took on after school jobs to pay for voice lessons, learning to drive so she could take herself to both. As a first-generation Afghan-American child of working-class immigrant parents, finding a place in music has been nothing short of a challenge for Qudus. "Women are often discouraged from pursuing music in the Afghan & Muslim community, and those who follow that path receive a lot of heat," she explains.

Qudus' earliest creative pursuits began with her solo project Doe Eye, which found quick success with radio play, magazine features and blogosphere buzz after 2014's T E L E V I S I O N—a lush collection of indie pop and spacey rock produced by John Vanderslice at his legendary San Francisco co-op-turned-studio Tiny Telephone. Working with Vanderslice opened new artistic avenues for Qudus: "Seeing the lit up VU meters on the console and multiple tape machines running really inspired me. I realized the studio is an instrument and if you know how to use it, you can take advantage of that in really cool ways." She began studying at Bay Area recording arts non-profit Women's Audio Mission, eventually interning both there and at Tiny Telephone before becoming a staff engineer at both. Studio tricks picked up from clients like Wax Nine's Sad13, Toro Y Moi, Sasami & Tune-Yards gave new inspiration for her own arrangements. And in between sessions, she was able to toy with electronic ambience and tape experimentations for Spacemoth—her latest solo project.

Spacemoth's debut album, No Past No Future, will be released July 22nd, 2022 on Wax Nine / Carpark Records. Rich in intergalactic, avant-pop, No Past No Future serves as a reckoning point between nostalgia and nihilism; it explores the struggle to hang on to a moment as it warps in time. The bulk of performance and production comes from Qudus herself, who favors vintage synths like the Yamaha CS-50 and Korg Polysix alongside fluttering tape manipulations; creating cosmic, lush soundbeds, drawing comparisons to beloved projects like Broadcast and Stereolab. Every track flows with Qudus' low timbered vocals, in harmony with the watery, glowing synthesizers that anchor the album. The result is an album radiating in astonishment at the emotional landscape humans contain within ourselves, and in wonder at the preciousness of our time on earth.