Young Gun Silver Fox
Tue,
Mar 21
Doors:

7:30 pm
|
Show:

8:00 pm
Tickets: $29.50 ADV - $30.00 DOOR
Ages 21 and Up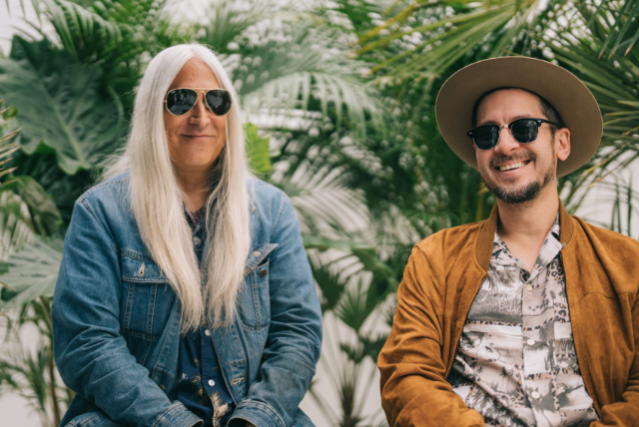 Another Planet Entertainment and The Independent are committed to producing safe events. Please review our most up-to-date COVID-19 policy requirements for entry on our Health & Safety page.
* Policy is subject to change
Artists
Young Gun Silver Fox
Musical chemistry is a rare, intangible thing. But for Andy Platts and Shawn Lee, the creative force behind Young Gun Silver Fox the unmalleable, unspoken connection that gives their work such a unique and distinctive sound was apparent from their first experiences in a studio together.
Alongside their now decade plus long tenure as Young Gun Silver Fox, both have already received plaudits for their individual creative excursions, American born, UK based musician Shawn Lee through his own extensive catalogue of recordings with the likes of Shawn Lee's Ping Pong Orchestra and his well-received solo albums, as well as a go to award winning producer and multi-instrumentalist for the likes of Hannah Williams and Joel Culpepper, and multi-talented Andy Platts as chief songwriter and leader of much loved Brit-soul sensations Mamas Gun. He's also clocked up a plethora of song writing collaborations with legends such as Rod Temperton and Brian Jackson.
Of their initial hook up Shawn explains that "It was about 2006 when we came across each other on Myspace and I checked out Andy and saw that he knew a couple of the same people, and I was impressed with his talents so I sent him a message saying we should hook up and do something, and he never got back to me of course! But maybe it was around 2009 when we first spoke."
Taking their name from Andy's standing as youngest band member and Shawn's resplendent silver locks, and sensing they were kindred musical spirits, the duo set about crafting their 2015 debut West End Coast, bonding over a shared love of the smooth sounds of '70s pop-soul and artist's such as Ned Doheny, Hall & Oates, Steely Dan and the breezy, west coast stylings that had been in Shawn's musical DNA since his youth. "I remember at one point thinking Steely Dan was the ultimate group because they had hit singles and were on the radio and I'm like 'man they're accessible and they're in the mainstream but their music is so sophisticated and so musical and they have the best playing and the best arrangements.' I just thought if you could do that then you've won, that's the ultimate thing musically for me that if I could do something like that, that had all those qualities but was still accessible then you're killing it. Music like that and bands like that are rare, it's a really special thing. And there's something about Young Gun Silver Fox that's winning on those two fronts."
The release of West End Coast was timely, riding in at the beginning of an overdue reappraisal of the previously maligned world of music that became (unfairly) grouped under the then fashionable 'Yacht Rock' tag, and Young Gun Silver Fox came straight out the box with a perfectly curated record that fused all the best components of mid '70s to early '80s contemporary pop and soul. Much to their own surprise, the band immediately found its audience. "We were surprised," explains Andy, "we were making it for us and we thought we'd try and put it out and it would be great to even play it live but we had no idea that it would find the audience that we hoped it might find, and we got really lucky in places like Holland where it really took off and we were playing big venues."
If West End Coast lit a musical spark then follow up AM Waves, released in 2018 fanned the flames and helped turn Young Gun Silver Fox into a self-made success story, showing a growing synergy between the two musicians that shone through on tunes like the deep, funky pop of 'Caroline', 'Lenny's deceptively poignant balladry and the beachside disco of 'Kingston Boogie'. "After the first album was done it was like 'yeah, this really works and this feels good' and we'd only just scratched the surface of it" says Andy. "So by the time we hit AM Waves we were really confidently digging in and chomping at the bit really."
Continuing to build on the reputation forged from their recorded output, Shawn and Andy followed up with stellar live shows and a touring schedule that took them round the world, finding fans in the many far flung corners of the world and securing the endorsement of musical legends. "I was surprised to discover how many Brazilian musicians were fans when I was in Rio doing some recording," enthuses Shawn, "and I was very pleased to hear that Jeff Lynne from ELO was a big fan."
2020's Canyons cemented the band as a permanent fixture in people's hearts and minds and elevated them to the status afforded on their own musical heroes, nailing the tricky skill of making deceptively layered and richly arranged music sound effortless. Whether through the easy rollin' groove of opener 'Kids', euphoric horn blasts of 'Dream Woman' or masterful song writing of closing piano ballad 'All This Love', this was band revelling in reaching new heights.
The pandemic induced lockdown provided time for the duo to reflect but not to rest on their laurels, and October 2022 sees the band release their fourth and finest work to date, the aptly titled Ticket To Shangri La, a culmination of everything the band do best, and a record that transports you to musical paradise the second the piano stabs of opener 'Still Got It Goin' On' kick in and the one-two sucker punch of second track (and the albums lead single) 'West Side Jet' lifts you off your feet with its four to the floor rhythm and joy-inducing chorus.
As always the albums genesis came from the sharing of songs and recordings online, with each member embellishing the other's tunes, whether that was Andy adding melodies and lyrics or Shawn laying down extra instrumentation. Says Andy of the process; "When Shawn sends me stuff all the musical variables are done so it's out of my hands and that's great but it's horrible as well, because I get to see Shawn's mind working and he's given me his stuff but I might think 'I wouldn't put that chord there I'd do that' and I think 'oh fuck, how do I work with this!' I really enjoy that because it keeps you on your toes and you don't rest on your laurels, you gotta bring your 'A' game and scrub up!" And although Shawn's desire was to up the groove factor on this album, as always it comes down to choosing the absolute best songs. "I knew it was gonna be coming down to what the best songs are, I do think it's an album of bangers though, the whole first five or six songs hit you and there hasn't been another one of our records like that, it's strong man."
Their dedication to their artform and years of hard-earned experience mean that they've delivered a record that touches you in the head, heart and feet, and whether it's starting the dance with the funky 'Tip Of The Flame', transporting you to magical sunsets on the stunning 'Sierra Nights' or packing some lyrical heft on 'Starting Wars', this is a band at the absolute top of their game, relishing the creative sparks they ignite in each other and playing to their strengths. Throw in the album's wonderful cover photograph (taken in 2020, pre-pandemic in Jakarta, Indonesia) and you have the perfect package, a wonderful next step in the bands continuing natural evolution.
What happens next is open to fate, but one certainty is that Andy and Shawn will continue to come up with the goods. "The 'West Coast' vibe was really a jumping off point initially," says Andy. "The more music we make, the more it really is all about what Shawn & I do together naturally, and so that's evolving the MO of the whole project all the time in a really natural way."
The Fell Swoop
The Fell Swoop pays homage to classic funk, soul, and rock n' roll through a mix of originals and covers. Though they hail from all corners of the country, the band has called San Francisco home for the past 8 years. Whether playing on the street of the Mission or burning down the house at a wedding, The Fell Swoop is known to elevate any occasion. They have performed at such Bay Area venues and events as SF Pride, August Hall, The Boom Boom Room, Rickshaw Stop, Cornerstone, Starry Plough and more.

Their new album Swoopstakes is a tapestry of modern and classic sounds, touching on themes of mental health, psychedelia, and love and lust. The ten original songs will take you on a journey from cruising the open road of California's coast, to cozying up next to your favorite cocktail at a local haunt or letting loose on the dance floor. Written collaboratively among the core five members, the album was crafted alongside veteran engineer and producer Nino Moschella at Bird and Egg Studios in Richmond, CA.