Margaret Glaspy
Mon,
Nov 13
Doors:

7:30 pm
|
Show:

8:00 pm
Tickets: $22 ADV - $25 DOOR
Ages 21 and Up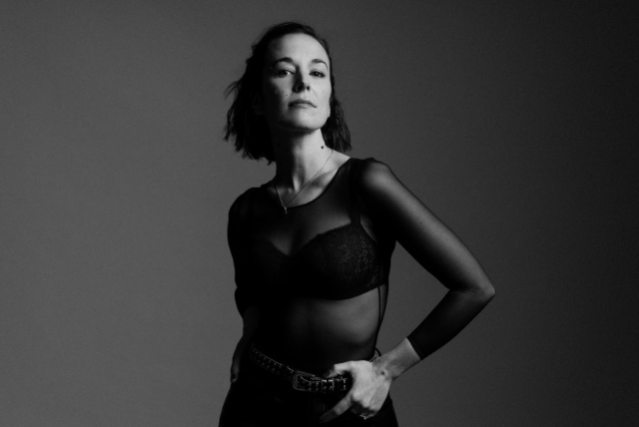 Artists
Margaret Glaspy
The third full-length from Margaret Glaspy, Echo The Diamond emerged from a deliberate stripping-away of artifice to reveal life for all its harsh truths and ineffable beauty. Like the precious gem of its title, the result is an object of startling luminosity, one capable of cutting through the most elaborately constructed façades. "This record came from trying to meet life on life's terms, instead of looking for a happy ending in everything," says the New York-based musician. "The whole experience of creating it felt like effortless catharsis."

Produced by Glaspy with co-production from her partner, guitarist/composer Julian Lage, Echo The Diamond expands on the frenetic vitality of her widely acclaimed debut Emotions and Math— a 2016 release The New Yorker hailed as an album "in which pretty songs often turn prickly, enriched by carefully measured infusions of dissonance and grit." This time around, Glaspy worked with drummer/percussionist David King of The Bad Plus and bassist Chris Morrissey (Andrew Bird, Lucius, Ben Kweller), recording at Reservoir Studios in Manhattan and embracing an intentionally unfussy process that left plenty of room for spontaneity. "I love music with a big element of risk to it, which was really the heartbeat of this album," she says. "A lot of what you hear are the very first takes." Anchored in the raw yet mesmerizing vocal presence and impressionistic guitar work she's brought to the stage in touring with the likes of Spoon and Wilco, Echo The Diamond holds entirely true to the spirit of its lyrical explorations, presenting aelection of songs both unvarnished and revelatory.
The follow-up to 2020's Devotion, Echo The Diamond takes its title from a turn of phrase that Glaspy tossed off in the midst of a conversation with Lage. "Bruce Lee once said to be water—if water is in a teacup, it becomes teacup-shaped; if it's in a glass, then it takes the shape of that glass," she recalls. "For me, Echo The Diamond is a way of saying 'shine bright', 'be brilliant.'" All throughout the album, Glaspy's poetic sense of language creates a heady tension with Echo The Diamond 's tempestuous sound, a dynamic in full force on the exultant opening track "Act Natural." The song captures the strange thrill of infatuation, channeling so much wonder and wide-eyed bewilderment into her lyrics (from the first verse: "Are you a paradise bird?/'Cause violet shines bright in both your eyes/That can't be natural").
Spotlighting her rare gift for rendering the most nuanced aspects of the human experience with equal parts primal emotionality and bracing intelligence, Echo The Diamond also offers up sublimely acerbic tracks like "Female Brain": a visceral yet sharp-witted piece of social commentary that slyly veers between irony and sincerity ("Eating scraps with delight/But I'll never give up the fight/On suffering and pain/Using my gorgeous female brain"). "That song offers a peek into what life can feel like for me as a woman, especially in the male-dominated landscape that I find myself in," says Glaspy. "The take we used for the album is actually a rehearsal; we were playing purely on instinct, in a way that was very physical and almost like falling off the edge of a cliff." "Irish Goodbye," the following track on Echo The Diamond, shifts into a moment of heavy-hearted storytelling spiked with fuzzed-out guitar and aching harmonies. "That song is partly meant to be a New York City portrait, but on a more personal level, I'm terribly shy and will often slip out the back door in social situations."
An album informed by profound loss, Echo The Diamond often finds Glaspy sorting through that pain to piece together indelible fragments of wisdom. On "Get Back"—a reflective and soul- stirring track on which her voice achieves a particularly gutting intensity—her insights take the form of both weary observation ("When you're dripping in your privilege/You don't know the difference/Between what you want and what you need") and tenderly delivered instruction ("When you're only thinking of yourself/You're missing out on everybody else/Get back to the place you started from/Get back to childhood"). "That song speaks to many things that have accumulated over the last few years for me, including grief and loss and finding myself again through all of it," says Glaspy. "Playing that songs sets me free." And on "Memories," the album takes on a sorrowful mood as Glaspy examines the emotional ruin so easily wrought by our own grieving minds. "'Memories' was probably the most challenging song for me to track; the take you hear is the only one I was able to get through completely," she says. "It was a level of vulnerability I'd never gotten on record, and it holds a special place in my heart now. Even though it's about a very specific loss for me, it seems to ricochet in different ways for anyone who hears it."
Originally from the Northern California town of Red Bluff, Glaspy first started writing songs at age 15 and soon began honing the potent balance of sensitivity and incisiveness that now imbues her music. In bringing Echo The Diamond to life, she adhered to a songwriting process meant to preserve and amplify her unfettered expression ("If I sit down with a guitar for about 15 minutes, I usually have a song at the end," she notes). Along with drawing from an eclectic mix of inspirations—Sonic Youth, Vivienne Westwood's punk-influenced approach to fashion, Tom Waits's music and turn as a jailbird DJ in Jim Jarmusch's Down By Law, the 1985 Japanese Western film Tampopo—Glaspy sustained that sense of thoughtful urgency upon joining forces with King and Morrissey in the studio. "This is the most fluid and immediate music I have ever made," she says. "I see now that I protected the creative space by surrounding myself with incredible people in making of this record, and I'm so happy I did."
As a result of Glaspy's rigor in protecting her instincts, Echo The Diamond ultimately marks the glorious realization of her most closely held intentions for the album. "I'm excited to make music that doesn't try to manipulate the listener into wishing for things to be any different from what they are. Ideally, I want my songs to reveal life for what it is, and to show that it's that way for everyone."
Cat Clyde
Cat Clyde is a singer/songwriter based out of rural Ontario, Canada. A combination of driven, soulful blues and sweet, folk- tinged, dulcet tones that carry a particular sense of familiarity provide the structure on which she creates her unique sound. With influences ranging from Patsy Cline and Lead Belly to Karen Dalton and Bobbie Gentry, this patchwork of musical significance, when stitched to her modern approach, fits like a well-tailored, corduroy-road cloth.

Cat's debut album, Ivory Castanets, was released in May of 2017 and featured her hit single, "Mama Said," which garnered the attention of music critics alike and has amassed over 20 million streams worldwide. Since then, Cat has been on a roll, touring across Canada, the United States, and Europe. She has shared the stage with Detroit's renowned singer- songwriter Rodriguez, the legendary Paul Kelly, and has since rocked a sold- out tour in Europe with Shakey Graves. Her second album, Hunters Trance, was released June of 2019 and its first single "All the Black" immediately shot to number 1 on the popular blog Hype Machine. She then embarked on her first large headlining tour of Canada and the US, selling out clubs on both coasts.

In 2021, Cat Clyde released a duet album with fellow Canadian Jeremie Albino named Blue Blue Blue featuring 2 original songs and 7 covers of some of their favorite artists. She will soon be releasing her new full length album which was produced by Tony Berg at the famed Sound City Studios