10 Years of Limits of Desire
Small Black
Sun,
Nov 12
Doors:

7:30 pm
|
Show:

8:00 pm
Tickets: $22 ADV - $25 DOOR
Ages 21 and Up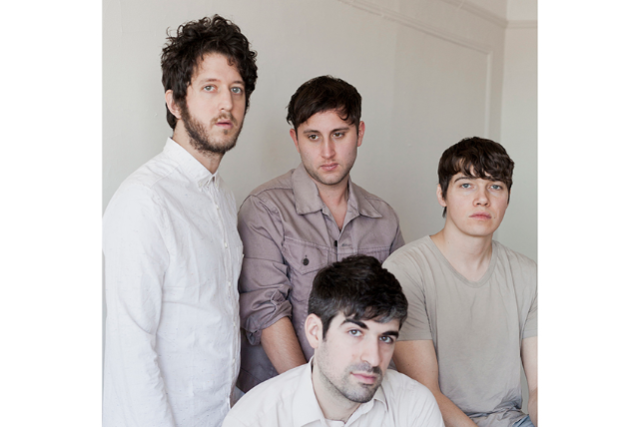 Artists
Small Black
Formed in 2009 as a bedroom recording project, Small Black first made waves with their eponymous debut EP. Recorded in the attic of singer Josh Kolenik's uncle's remote Long Island beach house/surfboard workshop, the EP served as an introduction to the group, with its pulsing patchwork of vintage synths and casio beats culminating in the breakthrough single "Despicable Dogs." This track cemented them as pioneers of Chillwave, the sound of which seemed to get its hooks into so much music across the 2010s.

The project evolved into a fully-fledged touring act, consisting of Kolenik (vox/keyboards), Ryan Heyner (guitar/keyboards), Juan Pieczanski (bass/guitar), and Jeff Curtin (drums), and this live influence showed up in their debut LP on Jagjaguwar, 2010's New Chain. The loopy, weeded-out album found the band messing around with hip hop drums & samples, which they further explored on 2011's Moon Killer mixtape, collaborating with rapper Heems & remixing their own material through this kaleidoscopic lens.

Years of hitting the road hard sent the band after a brand new sound & aesthetic with 2013's beloved Limits of Desire. Chasing the 80s pastiche of The Blue Nile & Talk Talk, SB upped their production chops, writing, recording & mixing the record from scratch, with the anthemic "No Stranger" & "Breathless" leading the way. Punctuated by the incredible visuals of directors Nick Bentgen and Yoonha Park, it was a huge step forward for the project. 2015's Best Blues, led by "Boys Life," followed further down this sophisti-pop path, adding more organic flourishes, choral samples & a little goth energy into the mix.

2020 finds Small Black back in the game with a brand new label, the vaporwave upstart 100% Electronica. New single "Tampa" harks back to monster pop of Tears for Fears, through the lens of a vacation gone wrong on the coast of Florida. Working again with mixer Nicolas Vernhes, the band's new record, Cheap Dreams is due on April 9th.
Geographer
If you've ever wondered what the weight of the world actually feels like, look no further than A Mirror Brightly, the latest from Geographer. In the time since his previous album, the gorgeously rueful Down and Out in the Garden of Earthly Delights, Mike Deni, the atmospheric-pop act's frontman, has assumed the role of thinking man's anthropologist. Here, he's picking through the wreckage around us in a world increasingly ensnared in everything from religion to social media. And he's got some things to say about it.
"I focused on my experience moving through the world: feeling like an outcast, being denied love in its many forms, and struggling to find meaning in an existence that looked increasingly like a void the more I peered into the glass," Deni says. Although A Mirror Brightly (out February 23, 2024, Nettwerk Records) is indeed deeply personal, it's not simply autobiographical like his previous releases. "This record takes that existential shock but explores it through humanity as a whole, rather than just me as an individual."
The title, Deni explains, "refers to the lights of the phone shining in our eyes, blinding us to ourselves, obscuring the truth." As much as A Mirror Brightly isn't afraid to ask all the questions, it can be luminescent, too. "It also refers to the beauty of this life. That is the glimmer of hope on the record. It leaves the option open that one day we might turn the light back away from our faces to illuminate the darkness that surrounds us."