The E3 Tour
midwxst
Fri,
Nov 10
Doors:

8:30 pm
|
Show:

9:00 pm
Tickets: $20 ADV - $25 DOOR
All Ages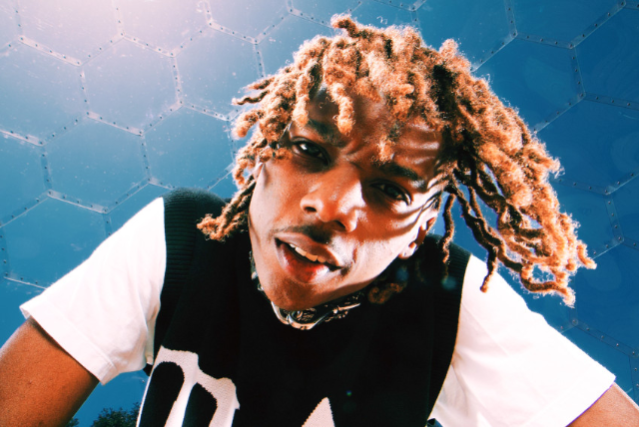 midwxst Meet and Greet Package Includes:
- One general admission ticket
- Early venue entry
- Meet and greet with midwxst
- Personal photo with midwxst
- Exclusive midwxst merchandise item
- Commemorative meet and greet laminate

**Please note that VIP merchandise will be distributed at the show. If there are any questions about the package, please contact INFO@FUTUREBEAT.COM. VIP details and check-in information will be emailed to patrons prior to the show date.
Artists
midwxst
The songs of midwxst feel like beacons in a tempest. The Indiana artist developed his chameleonic style in the pandemic-era hyperpop scene, emphasizing sincerity and transparency in songs like his grungy hit "Trying." Whether he is rapping over rage beats or penning sweet ballads, midwxst aims to provide listeners a path forward through relationships, identity formation and the internet. His upcoming album E3 showcases his imagination and world-building—it's his most immersive and conceptual experience yet.
The key to the world of midwxst is his scrappiness. He's understood from the jump that there's no rulebook to great art. He learned how to make music through talking on Discord with other teenagers during COVID. And despite being in rooms with artists like Denzel Curry and Babytron he continues to keep that spirit alive. For his 2022 project better luck next time, recorded in a deep depression after a breakup in his first semester of college, midwxst turned to his new classmates for help on the closing track "On My Mind." "Those are five of my college friends on that song in my dorm room, singing with me because I asked them to," he says. "I don't have a choir budget, so I'm gonna ask all my friends who make music on campus to come and sing for me in different tones."
midwxst learned to work with whatever resources he had from an early age. Born in Columbia, SC, he was surrounded by family members in the military who taught him respect and inventiveness. They'd move from place to place following his mom's career, eventually landing in Indiana.
As he got his bearings, midwxst was constantly exposed to a range of music old and new. His dad showed him Kanye West, Nas and Boyz II Men; his mom, Ashanti, Mary J. Blige and Keyshia Cole. midwxst listened through the walls to his older sister practice Broadway tunes, and throughout middle and high school, found a creative outlet in theater tech. "I just wanted to learn what the fuck went on behind everything," he says. "I always watched behind-the-scenes music videos and shows and stuff."
Soon, his curiosities led him down the path of recording music. Like most of these stories, it started in 2019 as a joke. "I got a three-day in school suspension for a diss track on a kid," he laughs. But within a year, his silly freestyle over the "Look At Me" instrumental had turned into a budding music career. During the pandemic, midwxst met friends on Roblox who'd become collaborators as part of the internet collective Novagang. Inspired by XXXTentacion, as well as online peers like d0llywood1 and osquinn, he learned how to translate his hard raps to soft melodies, and his loose recordings to tightly-mixed ballads. "I was just in the crib with nothing but time. I sat down and I was like, 'Yo Imma teach myself how to actually mix my shit and sound good.'"
midwxst and his friends would assemble the foundations of a scene that critics would attempt to categorize with genre tags—"hyperpop," "digicore"—but was really about the vast limitlessness
of internet music and the hopes and anxieties of a new generation of kids. They were the talk of the New York Times and Complex, a Spotify editorial playlist and a SoundCloud documentary; they were also just kids growing up together in Discord servers. "There were times we sat in that Novagang call and didn't do shit music related at all," midwxst says. "We were on Omegle trolling or some shit. That's why the hyperpop community is so unique. You can't imitate that bond that we all had and shared so deep."
One of the defining hits of this era was midwxst's breakout single "Trying," a dose of alt-rock rage about depressive thoughts and suicidal ideation: "Back to the basics, wake up and go to sleep / Don't know who's my friend, I don't know they even care for me." Demonstrating the range of midwxst's emo-tinged vocals, it quickly set him apart from the scene and caught the attention of labels; midwxst signed to Geffen in 2021, days before he graduated high school.
"Trying" was also the first time midwxst's parents found out about his struggles in high school with bullying and alienation. "My SoundCloud days, I was all over the place mentally," midwxst says. "All of those songs were me just talking about everything I hate about myself, everything wrong about myself. It felt like I was working towards nothing."
midwxst has since devoted his energy to making songs that he thinks will help kids wrestle with their own demons, all while sharpening his skills and burrowing into different sounds. There's his exhilarating Back in Action mixtape series, which he describes as "me talking my shit," home to rap songs like the bouncy "223's" with Babytron. And then there are his albums, like 2021's SUMMER03 and 2022's better luck next time, where he hones his focus, explores genres and finds catharsis in the waveforms.
Compared to better luck next time, which is a brash breakup album through-and-through, his upcoming record E3 is an intricate painting of love in all its forms and evolutions. "This is me going in, talking about each complex issue, discrepancy, things that shaped how I view love and the world as a whole," he says.
Co-executive produced by midwxst and Sophie Gray, it's easily his most ambitious and considered album. The songs fold into the story of a character named E3, narrated by midwxst himself. The project illustrates his recent internal challenges, but also underscores a profound growth and maturity.
"E3 is a character who is self-obsessed, only worried about himself, doesn't really take time for other people because he has so much shit going on in his life," he says. "And he knows that he can do those things for these people, but since you're so accustomed to the life you live, that's the only thing you know. So that's the cycle he goes down: you see him going through a bunch of relationships, and a bunch of one night stands and toxic relationships and bad circumstances throughout the album."
E3's story expands across big ballads like "Lost," aided by gorgeous live instrumentation and records like "Lights Out" that sound like if you gave midwxst's digicore tunes a hi-res makeover.
Inspired by the luxurious and high-strung work of Travis Scott and Kanye, midwxst hunkered down in a studio in LA, taking his time with writing and deliberately bringing in industry veterans and session musicians to soundtrack what he describes as a "fairytale gone wrong." "You expect so much from relationships when you get into them that it feels like a fairytale. But by the time you get out of it, you wish you never opened that book."
"I just want people to understand that I went through a lot of the shit I am expressing on this album," midwxst adds. "And yeah I went through it, and yeah it hurt, but it made me grow and become who I am today. And I wouldn't trade any of that pain or any of that loss for anything."