You're Going to Die presents
Whiskerman | Rainbow Girls
The Feelings Parade
Chelsea Coleman
Sat,
Jan 18
Doors:

7:30 pm
|
Show:

8:00 pm
Tickets: $18 ADV - $20 DOOR
Ages 21 and Up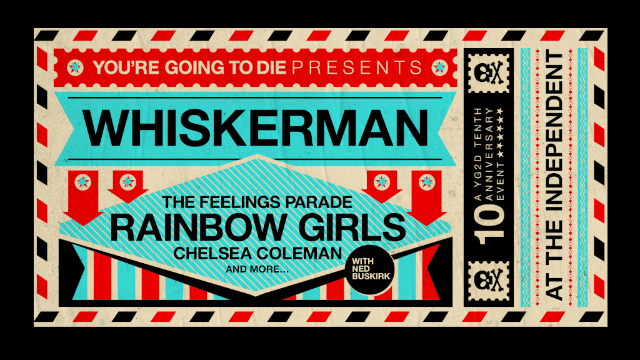 "For its 10 Year Anniversary Celebration, You're Going To Die offers a mortally conscious & enliveningly entertainment experience, proudly presenting great artists as they deserve to be presented: in the concert context of acknowledging their musical mortal magic... & in one of our favorite venues in San Francisco!"
Artists
Whiskerman
Whiskerman is preparing to release their fourth studio album, Kingdom Illusion–a rock and roll vision quest that ushers the band's elegiac psychedelia towards a louder, pushier, more colorful sound. Their past albums have been described as "ecstatic psychedelia, sturdily constructed pop-rock, pick-and-grin folk all together as a single picture."
The Feelings Parade
It's fitting that Morgan Bolender and Scott Ferreter of The Feelings Parade met at San Francisco's ongoing mortality-focused gathering called "You're Going to Die." Their growing fanbase knows them for being musical truth-tellers who choose to speak and sing about things with a courageous honesty. They create a space for both the ache and the pleasure that come with being human, and their finely-crafted songs and stories speak to both with equal reverence. They've been asked on more than one occasion to make an entire album of their unscripted, often hilarious, and vulnerable onstage banter, which has become as big a part of the band's reputation as the songs.
The Feelings Parade is as much a movement as it is a band — people come as much for the skillful songwriting, tight harmonies, and rich textures as they do to drop into their own tender human hearts (on more than one occasion, fans have said that Feelings Parade shows are "better than therapy.") The music they make has brought them everywhere from grand music halls to prisons–from yoga retreats to the bed sides of hospice patients–and has had them sharing stages with like-hearted musicians such as Glen Hansard, Josiah Johnson (The Head and The Heart), Ayla Nereo, John Craigie, and MaMuse. Their current momentum is due, at least in part, to the unscripted and authentic way they lay it all out, both inside and outside of the songs.
Chelsea Coleman
Oklahoma grown singing-songwriting powerhouse, Chelsea Coleman, creates sanctuaries out of songs, wherein her audience is moved, humbled, and exalted. A courageous and vulnerable storyteller, she invites you to endure open heart surgery, skillfully mending your heartache with strands of golden thread. Each listener leaves more integrally woven in to the tapestry of humanity.