The Seshen
Sat,
Jul 17
Doors:

8:30 pm
|
Show:

9:00 pm
Tickets: $16 ADV - $20 DOOR
Ages 21 and Up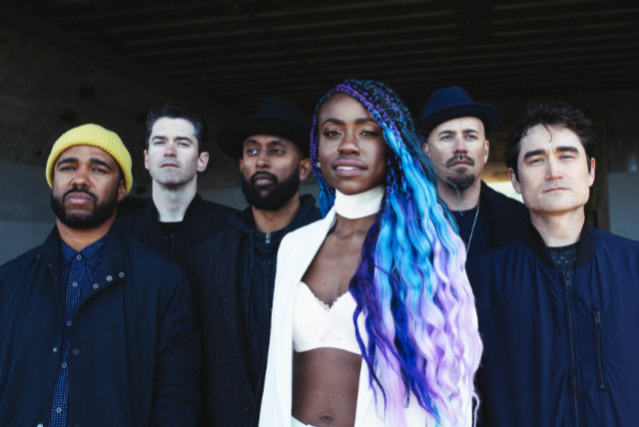 Another Planet Entertainment and The Independent are committed to producing safe events. All patrons attending concerts at The Independent will need to show proof of vaccination OR a negative COVID-19 test within 72 hours of the event date to gain entry. For more information, visit our Health & Safety page. Policy is subject to change.
Artists
The Seshen
The Seshen is a San Francisco Bay Area six-piece band whose songs exist between the lines: in the space between waking and dreaming, ego and collective consciousness, at that blurred horizon where earth meets sea meets sky.
Anchored by Lalin St. Juste's sly, silvery vocals (which draw frequent comparisons to Erykah Badu) and cerebral yet danceable rhythms from producer-bassist Akiyoshi Ehara, their music pulls from a deep well of electronic influences, R&B, and indie rock. Drummer Chris Thalmann, keyboard/synth player Mahesh Rao, percussionist Mirza Kopelman and sequencer Kumar Butler make the music three-dimensional, blending live and digital instrumentation for a mercurial, transportive sound. Since 2012, the Seshen's live show has earned them critical acclaim and a dedicated fanbase on multiple continents, as they've shared stages with the likes of Hiatus Kaiyote, PetiteNoir Tune-Yards, and Thundercat.
CYAN (February 28, 2020 - Tru Thoughts) is the band's most vulnerable, compelling work to date. Over a spacious, at times tumultuous sonic landscape that leans on live instrumentation, St. Juste sings of a reckoning: a hero's journey through confusion and self-doubt, depression, and ultimately forging a way out toward the light. CYAN is a story about saving yourself. There's death, rebirth, and a chance to look square in the mirror for the first time in a long while. To dive deep in search of a new life—one stripped of pretense or protective armor, for better or for worse.
Mahawam
Incubated in the early 20's dissociations of Oakland based songwriter and producer Malik Mays, Mahawam is an antagonist. But only if you believe you're the good guy. "I like to think of Mahawam not as the person I am when I put on or take off a mask, but the lingering feeling of awareness of the action. The not-so-objective, often unimpressed observer in and of the whole of my experience. Maha makes it make sense." Black and queer, among many things, Mays' work explores the borders of self and other, subject and object, agency and powerlessness, and the forces that disallow the Black and the queer to decide those boundaries for themselves. "Mahawam allows me to investigate what it means, has meant, and will mean to be me. In that way, Mahawam is how I experience time. It's my fourth dimension."
That euclidean ability to abstract the self bears itself both in Mahawam's lyricism and musical output. Sobering punchlines, meticulously worded flows, and propellant, genre-defying productions combine in frequently unusual ways to form a mercurial hip-hop sound all their own. Mahawam translates this atmosphere to the stage with understated confidence, presenting a raw and immersive experience during their energetic live shows. As a remixer Mahawam employs an if-you-squint approach to production, taking recent releases from fellow Bay Area acts Emily Afton and NRVS LVRS into unforeseen territory.
Mahawam is currently developing a new collection of songs alongside co-producer and mix engineer Aki Ehara, tentatively titled "Foils." Mahawam's debut EP "Is An Island," is available everywhere via Molly House Records.