Papooz
Tue,
May 10
Doors:

7:30 pm
|
Show:

8:00 pm
Tickets: $18 ADV - $22 DOOR
Ages 21 and Up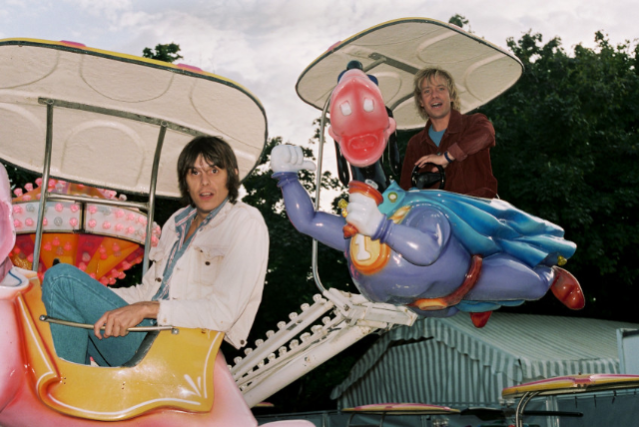 Another Planet Entertainment and The Independent are committed to producing safe events. Please review our most up-to-date COVID-19 policy requirements for entry on our Health & Safety page.
* Policy is subject to change
Artists
Papooz
Papooz sound like Parisians mentally transporting themselves to California, but remaining in Paris since you can smoke cigarettes inside there. Today, the duo announce their third album None of This Matters Now, coming on February 25, 2022 via Half Awake Records. None of This Matters Now was self-produced by the duo and mixed by Julien Delfaud (Phoenix, La Femme) and recorded at La Ferme Records, the studio of the duo's drummer Pierre-Marie Dornon who transformed an old barn in the middle of a pine forest in the South West of France into a beautiful all-wood recording studio.
To mark the announcement, the Hedi Slimane-beloved band also share the shimmering ode to big tech giants title track "None of This Matters Now", an avant-pop song arranged in the folk tradition of Neil Young or Bob Dylan, as well as its music video by French-Japanese director Alice Kunisue (Franz Ferdinand, Christian Louboutin).
Papooz' Armand Penicaut says the track is inspired by the " Laurel Canyon music scene of the early 70's" and "the song came to me one night in Paris after a conversation I had with my friend Nicolaj Schultz (a Danish sociologist who works on climate change along with the famous French philosopher Bruno Latour). He explained to me the GAFAM [big tech leaders] were all buying properties in New Zealand in the hope to save themselves from global warming. I thought it was good material for a song and came up with this gospel-like chorus on the way home."
Director Alice Kunisue says that the video tells the story of "two badass brothers who hold up a boring retirement home to escape their cherished grandpa. A trip where you'll find a flying wheelchair, a heist with a drill, an imperturbable grandma and some crazy collages. The best way to live your life as none of this matters now."
Ulysse Cottin and Armand Penicaut, the two performers who make up Papooz, compose and sing effortlessly in English and are known for creating exceptionally infectious pop and have a talent for writing the catchiest choruses in the land. Tropical pop here, wild bossa nova there, all of it deeply anchored in the American style of the Seventies, Ulysse and Armand are perfectly matched. None of This Matters Now is the duo's third album and follows on from their acclaimed 2019 second album Night Sketches, which NME described as "a delightful soundtrack to your next unhinged night out, wherever you are."
Faux Real
Faux Real is the deranged child of Franco-American brothers Elliott and Virgile Arndt.
In the summer of 2018, they invoked the union of their inner-gene genies and gave birth to faux realism.
The brothers started playing their first shows as a duo with nothing but a couple of microphones, a flute, some handmade costumes, and a weird/incestuous/compelling 30-minute long choreography. With no music online or a single confirmed show on the horizon, they took off on a month-long U.S. tour in March 2019, with high hopes and low expectations.
They ended up performing over 30 times that month, from SXSW in Austin to Los Angeles and New York City, performing anywhere and everywhere the city would allow, from large venues to sweaty nightclubs to street corners, house parties, art galleries, illegal raves, or hijacking existing bills with impromptu slots. The two brothers are quickly becoming notorious for their wild, unhinged, retro-futuristic and avant-garde anti-rock performances, ranging from flute-infused 808 ballads to feverish Stooge-esque self-flagellation, tongue-in-cheek english poetry, faux athletics and improvised quasi-ballet.
Faux Real are also becoming known for their charismatic visual identity despite a willingly limited online presence, and have already been shot by some of today's preeminent music and fashion photographers.
The project sparked up the interest of Jay Watson (Tame Impala, Pond, Gum) who came to work on Faux Real's first EP, due the fall of 2019. Faux Real's debut single "Second Sweat" rips through the many joys of social anxiety and panic attacks at a cruising speed of 162 BPM while surfing on motor synth loops, chichi guitars, and gritty slap bass.