Black To The Future Tour - 2nd Show Added!
Sons of Kemet
Tue,
Apr 12
Doors:

7:30 pm
|
Show:

8:00 pm
Tickets: $26 ADV - $30 DOOR
Ages 21 and Up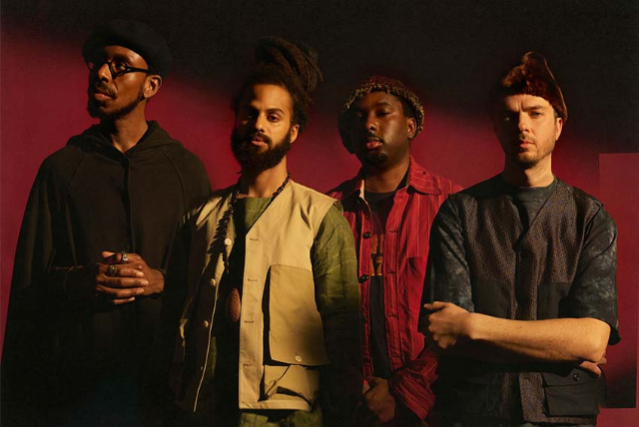 Another Planet Entertainment and The Independent are committed to producing safe events. Please review our most up-to-date COVID-19 policy requirements for entry on our Health & Safety page.
* Policy is subject to change
Artists
Sons of Kemet
Saxophonist, composer, philosopher and writer Shabaka Hutchings returns with a brand-new album from his Mercury Prize nominated outfit Sons of Kemet. Black To The Future, the band's fourth LP and second on Impulse! Records, is due out May 14.
This is the band's most dynamic project yet, featuring prominent vocalists including
Angel Bat Dawid
, poets
Moor Mother
and
Joshua Idehen
, and grime artist
D Double E
. The first single
"Hustle"
features
Kojey Radical
with backing vocals from singer
Lianne La Havas
and is out today with a dance-inspired metaphorical video directed by
Ashleigh Jadee.
The last time Shabaka Hutchings released a record, it was March 13, 2020 – on the eve of the pandemic – with Shabaka & The Ancestors' We Are Sent Here By History. The "momentous" (NPR Music) album centered around themes of confronting the destruction of humanity as we know it. The prescient theme of this record was not lost on those who heard it.
Shabaka Hutchings is consistently in tune with – if not in front of – the cultural themes swirling in our world: past, present and future. He unearths forgotten mythologies, unlocks sounds of the past, and presents a thesis for the future. That continues with Black To The Future, a politically poignant and musically rich album, which feels destined to be placed on the shelf next to Archie Shepp's Attica Blues or John Coltrane's Alabama.

Musically, Black To The Future is a bigger affair than previous Sons of Kemet records. The core group – Theon Cross (tuba), Edward Wakili-Hick (percussion), Tom Skinner (percussion) – is enhanced by guests such as Jazz warrior UK saxophonist Steve Williamson, Chicago bandleader/vocalist Angel Bat Dawid, American poet Moor Mother, legendary British Grime MC D Double E, British artist/rapper/spoken word musical artist Kojey Radical, and more. Shabaka Hutchings also adds complex layers of woodwind instrumentation throughout the record, which he did during lockdown.
This album begins and ends with powerful lyrical and musical statements of rage and frustration, expressed outwardly in the wake of George Floyd's death and the subsequent BLM protests. The album flows inwards from the start and finish to deeper, inner journeys – looking to forgotten cosmologies and searching for new ways of existing.
Shabaka Hutchings says, 'Black to the Future is a sonic poem for the invocation of power, remembrance and healing. It depicts a movement to redefine and reaffirm what it means to strive for black power."
"The meaning is not universal and the cultural context of the listener will shape their understanding," he continues. "Yet in the end, the overarching message remains the same: For humanity to progress we must consider what it means to be Black to the Future."
Lead single "Hustle" is a propulsive, urgent song with the poetic, chanting lyrics of Kojey Radical. He speaks: "Why ain't no one tell me peace of mind was pricey /I could dance with the devil but that's unlikely / Might go broke but that's unlike me / I was born from the mud with the hustle inside me."
About the accompanying music video, also released today, Hutchings says: "The dancers represent the duality present within any struggle to transcend internal limitations," unfolds Shabaka. "As the video progresses, we see that it's only once the differing elements of the self are reconciled and act in unison that rebirth (symbolized by the immersion in water) can occur."
For Black To The Future, Shabaka sequenced and named each track in a specific order so that the song titles reflect a single poetic statement to which a depth of symbolic meaning can be intuited in combination with the music/sonic information.
The statement reads: "Field negus - pick up your burning cross - think of home - hustle - for the culture - to never forget the source - In remembrance of those fallen - Let the circle be unbroken - Envision yourself levitating - Throughout the madness, stay strong - Black."
Melanie Charles
Melanie Charles is a Brooklyn-born singer, songwriter, bandleader, producer, actress and flautist of Haitian descent, with a creative fluidity spanning jazz, soul, experimental and roots music. Charles was raised by a Haitian mother in Brooklyn where the sound waves in their home were filled with artists like Johnny Hodges, Frank Sinatra, Chaka Khan, Anita Baker, John Coltrane and Nat King Cole. As a teen, she attended the famed LaGuardia High School for the Performing Arts where she studied flute and vocals. Eventually, she landed at the School of Jazz and Contemporary Music at The New School where she met artists like singer, songwriter and record producer Jesse Boykins III and alto saxophonist Lakecia Benjamin.
Charles' genre-bending style has been embraced by a wide range of artists including Wynton Marsalis, SZA, Mach-Hommy, Gorillaz and The Roots. Throughout her career she has remained committed to making music that pushes listeners to consider new possibilities, both socially and politically. "Make Jazz Trill Again," a project that she launched in 2016, demonstrates her allegiance to everyday people, especially the youth and is focused on taking jazz from the museum to the streets. Earlier this year, Charles' Tiny Desk (Home) Concert debuted on NPR Music, who proclaimed, "Melanie Charles takes us on a journey that embodies the soul of jazz: exploration."