The NQAF and The STUD present
Commando
Man on Man (ft. Roddy Bottum)
Plack Blague
hosted by Vivvyanne ForeverMORE
Thu,
Jun 23
Doors:

7:30 pm
|
Show:

8:00 pm
Tickets: $20.00
Ages 21 and Up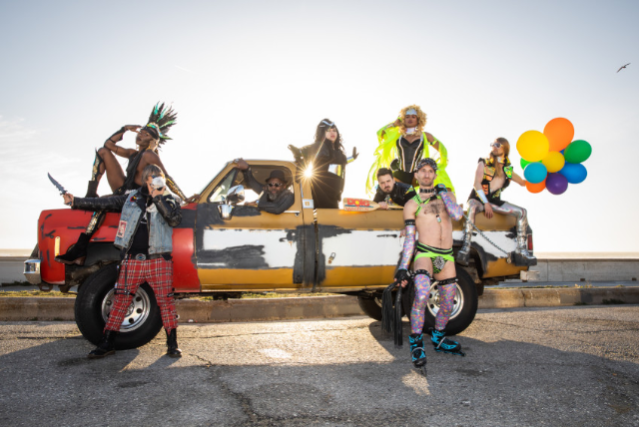 Another Planet Entertainment and The Independent are committed to producing safe events. Please review our most up-to-date COVID-19 policy requirements for entry on our Health & Safety page.
* Policy is subject to change

Artists
Commando
COMMANDO is gay nü metal band from San Francisco, California.
Featuring five of the most powerful queer vocalists in California music history--Juba Kalamka (Deep Dickollective), Lynnee Breedlove (Tribe 8, The Homobiles), Drew Arriola Sands (Trap Girl), Krylon Superstar (Double Duchess), and Honey Mahogany (San Francisco Democratic Party)--COMMANDO simultaneously confronts our shared cultural past while making music unlike anything that has come before it.
Quarterbacked by a rhythm section of bassist Van Jackson-Weaver and virtuosic San Francisco experimental chamber duo The Living Earth Show (drummer Andy Meyerson and guitarist Travis Andrews), COMMANDO synthesizes rock, punk, hip hop, experimental music, metal, screaming, shredding, and poetry create something entirely unique.
COMMANDO's self titled debut album, released in 2022 on the venerable indie label Kill Rock Stars, unleashes a new type of bombastic, melodic, sensitive, and explosive queer rock music: gay nü metal for a gay nü world.
Lynnee Breedlove: Tribe 8, Homobiles
Juba Kalamka: bisexual artist/activist & co-founder/producer of legendary "homohop" group Deep Dickollective
Drew Arriola Sands: lead singer of Trap Girl
Krylon Superstar: lead vocalist of Double Duchess and SF drag legend
Honey Mahogany: first Black and Trans chair of the SF Democratic Party, vocalist and first SF performer on RuPaul's Drag Race
Man on Man (ft. Roddy Bottum)
Two bodies dancing hot in the New York City winter before being pushed inside for the rest of 2020. Two hearts that, in the span of 6 months, faced the loss of both of their mothers, the matriarchs that bore them to this planet full of wonder. They held on tight to the beauty of living, together. With this shared language and the confines of quarantine they lost and loved even harder. Battling packed boxes and lost jobs, the two celebrated their tragic journey with broad shoulders forcing power chords and the harmonized chants of utter release. They huddled together for the future while leaking their hearts into pop melodies that collide effortlessly with both a shared melancholy and simultaneous hope.
MAN ON MAN (also M.O.M.) is a new gay lover band made up of Joey Holman (HOLMAN) and Roddy Bottum (Faith No More, Imperial Teen, CRICKETS, Nastie Band). Their upcoming self-titled record, MAN ON MAN, is infused with indie-rock distortion and soaked in gay pop confidence while still maintaining the acerbic and pure sense of humor they both share. M.O.M.'s music videos take their magical collaboration to another level with otherworldly cinematographic dimension, and of course, the subversive playfulness of two gay lovers unmistakably flirting with their audience and each other. Upon the release of their debut single, "Daddy", their video (chock full of the pair dancing seductively in their white briefs) was removed from YouTube for violating their "sex and nudity policy." At this moment, the band solidified their political visibility as queer artists who are not ok with being silenced or removed from history because of their age or size. Bottum told Rolling Stone, "There's enough representation in the gay community of young, hairless pretty men." Roddy and Joey's love for each other and their own bodies, histories, and truths are what make this project so tender and lovable.
MAN ON MAN's music transcends both genre or decade, creating a timeless appeal for so many kinds of listening. The varied influences and textures of the record are a meditation on the myriad of emotions of lockdown, as well as this particular moment in their own lives, collectively and independently. The shoegaze whirlpools of "Stohner" transition into the square wave synths of "1983" with ease, while tracks like "It's So Fun (To Be Gay)" open us up to a new type of queer anthem for the 2020s.
It is hard not to be captivated with MAN ON MAN's story, as they pass through pandemic lockdowns in a rented pickup truck. Through hotels, rest stops, mountaintops, desert mirages, back roads, beaches, and hospital rooms, the layering of space and time allows us to grasp onto each moment individually and together as a whole. When we fall into their world (which was self-produced with mix support by Grammy-award winning producer Carlos de la Garza [M83, Paramore, Jimmy Eat World] and Mike Vernon Davis [Foxing, Great Grandpa]), we witness MAN ON MAN's deep intensity of falling in love while mourning, and the epic collaboration of two lovers that traverse the map of a COVID road trip.
MAN ON MAN is more than a band, it is a partnership of two beautiful queers who are committed to creating a language that is both musical and visual, and that transcends what we know of gay music at exactly the cultural moment we need them. As individuals, lovers, sons, community pillars, and human beings, M.O.M. are a womb to be reckoned with.
Plack Blague
Nebraska's elusive Leather Band, PLACK BLAGUE, has been on a rampant path of sex, destruction and electronic leather mayhem for over a decade. Performing nationally from large theaters and dive bars, to art galleries, dingy basements, and even children's television shows, the leather-clad masked monstrosity continues to attract and confuse audiences varying from dance party club kids to heavy metal beer guzzlers. PLACK BLAGUE's sound emits a vile combination of primitive Industrial noise, sadistic Body Music, and throbbing dance beat party vibes. The live performance is a "must see" spectacle of homoerotic Leathersexual delusions of grandeur mixed with muscle flexing tantrums of harsh noise and electronic disco. Plack Blague has been making headlines with feature articles in media outlets Revolver Magazine and Out Magazine, which premiered the music video for "Just Another Man of the Street" from the 2017 album "Night Trax" released by New York City label, Ormolycka Records. Touring extensively across the United States and Canada, the band caught the attention of Adam Lee Miller from Detroit's ADULT., who has been producing new music with the Blague in 2018.
hosted by Vivvyanne ForeverMORE