Smoked Out Soul & Pamela Parker's Fantastic Machine
Fri,
Jul 28
Doors:

8:30 pm
|
Show:

9:00 pm
Tickets: $20 ADV - $25 DOOR
Ages 21 and Up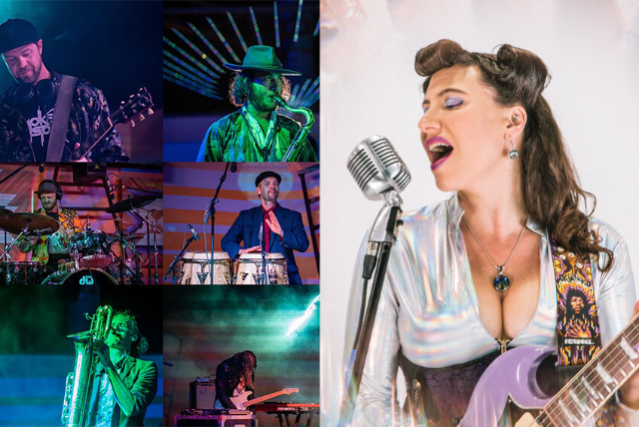 Artists
Smoked Out Soul
"Old school taste new school bass. Smoked Out Soul is rooted in funk and looking into the future. Blending the classics with modern production, SOS features a high energy DJ set laced with live horns, synth, guitar, drums and percussion. It's Memphis meets California, dusty records and computer love.
What started out as a party at a premier night club in San Francisco's Mission district where DJs would collaborate with special guest live musicans, has now become a touring act, record label and production team.
Along with Bay Area clubs, SOS has played festivals such as Bonnaroo, Lighting in A Bottle, Symbiosis and Joshua Tree Music Festival.
Led by producer / DJ / guitarist ZEBUEL, Smoked Out Soul features some of the best players in the bay: Paul Oliphant on drums, Ian McDonald on synth and guitar, Brandon Lee on percussion, Chris Hoog and Teddy Raven on sax, Brendan Liu on trumpet, and as always secret special guests!
Pamela Parker's Fantastic Machine
Pamela Parker's Fantastic Machine creates rock n'roll chemistry by blending sultry soulful vocals with powerful rock anthems. Pamela's voice is described by Program Director of CHLY, Steve Levington, as a combination between Ann Wilson and Axl Rose. The band has built a sound on their dynamic stage presence and commanding vocals that can drive you, make you dance, or take you on a journey. Pamela Parker's Fantastic Machine creates a fresh rock n'roll landscape with a wide range of surprising touchstones like Aretha Franklin, Thin Lizzy, Funkadelic and Heart. The new songs being released this year on the MotherStar album reflect the struggles of life, love, the rock n'roll business, and the pursuit of spiritual happiness. The live band together presents and addictive and monumental force, bringing the sounds of nu-funk, pop & psychedelic rock n'roll music all together into one creating a new sound that will make your heart swell and your fist pump.
Jason Cropper Band
Jason is a bay area artist who formed the band Weezer as the band's original guitarist, contributing to The Blue Album, recorded in 1993. Cropper is credited with co-writing the song "My Name is Jonas". After completing his work with Weezer, Jason started the band 22 Jacks (with Chris Shifflet of Foo Fighters) followed by Chopper One, releasing albums in the 1990's.

Cropper rocked various music projects in the late '90s and early 2000's including singing the theme song for the 2002–2003 American sitcom, Andy Richter Controls the Universe.

Jason has an exciting repertoire of new music and is releasing an album this summer. Cropper produces music with up and coming bands at his studio in Oakland, CA.