Madeline Kenney
Fri,
Aug 18
Doors:

8:30 pm
|
Show:

9:00 pm
Tickets: $18 ADV - $20 DOOR
Ages 21 and Up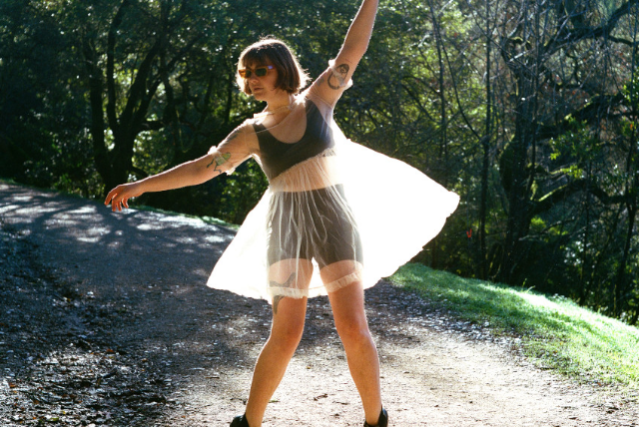 Artists
Madeline Kenney
At the end of the day, Oakland-based Madeline Kenney just wants to be surprised. An artist with a rare openness to exploration and an appetite for the novel, her pursuit of music wasn't always a foregone conclusion, though she's played piano her whole life. Hers is a path peppered with diversions, in the sense that she lets herself be amused. She's studied neuroscience, been a dancer, a baker, a visual artist, and yes, a musician, but even that role comes with nearly too many hyphenates to count. But rather than existing as offshoot paths, her many selves are always entangled, encouraging one another. All of it shows up in the songs.

To chart the trajectory of her career from the release of her critically-acclaimed debut album Night Night at The First Landing in 2017 to her now fourth studio release, A New Reality Mind, is to witness a simultaneous evolution and unfurling—her creative precision curing as her musical palette becomes evermore unrestricted and prismatic, stretching to contain the curiosity of her roving mind.

This voraciousness shows up everywhere in her work, from the layered sonic tensions in her music, to the seemingly endless roster of musicians she's collaborated with. Since releasing Night Night (which was co-produced with Chaz Bear of Toro y Moi), she's shared music near annually, including albums Perfect Shapes (2018) and Sucker's Lunch (2020), which were both co-produced with Jenn Wasner (Wye Oak / Flock of Dimes), with whom Kenney also released split EP The Sisters / Helpless (2019). Sucker's Lunch also featured a cameo from Kurt Wagner, of the perennial cult-favorite Lambchop. Meanwhile, Kenney also finds time to collaborate beyond her own project—she's lent vocals to multiple Toro y Moi projects, co-produced records with artists such as A.O. Gerber, and directed music videos for Hand Habits, Boy Scouts, and Olivia Kaplan.

Her newest release sees Kenney at the height of her personal creative power. Produced and recorded alone in her basement, the songs on A New Reality Mind pulse with the vibrance of a fiercely inquisitive mind. They're the result of Kenney's penchant for wonder and an invitation to look at the world through her continually-searching lens.
Fat Tony
No artist personifies the DIY culture of both underground hip-hop and Houston as perfectly as Fat Tony, the Third Ward-born musician who stormed through the indie-rap gates more than a decade ago. Through years of writing and performing amid the hip-hop scene of the fourth-largest city in the country, the man known as Anthony Obi has graced stages with the intent to always honor his inspirations, musical or otherwise. He's found himself as an artist among the likes of fellow Houstonians who mix inward-looking pathos with storytelling and a swagger all their own—from Devin the Dude to Scarface—as well as like-minded iconoclasts from other genres such as Prince.

Fat Tony has emitted vital dispatches from his hometown to the world since he was able to pick up the mic and pass out CD-Rs and post links on MySpace in high school. Following a slew of independent releases, his 2013 record, Smart Ass Black Boy, introduced Tony's singular voice to a national audience. A voice that was introspective but slyly humorous, keen to recording barnburners about house parties inside gentrifying neighborhoods on the same piece of wax as an ode to the tough love doled out by his immigrant father.

The winding road he's traveled in his career reflects the range of his vision—an artist captivated by the spirit of punk rock and hardcore music, eager to put his on for his hometown as much as decamp to New York, Los Angeles, or Mexico City for inspiration. He's always been deeply interested in human connections, whether as guest lecturer at a contemporary arts museum, editor of a self-published zine focused on artists of color, or co-host of a talk show on Vice. Along the way he's collaborated with such key figures as Bun B, A$AP Rocky, and Maxo Kream, fronted a noise-rock duo, and picked up accolades from every Texas-based publication imaginable, as well as national outlets including Rolling Stone, Pitchfork, and The Fader.
Jordan Thewlis
Jordan Thewlis is a comedian and writer based out of California. He's a Daily Contributor to The Onion, and his stand-up has been featured in SF Sketchfest, Comic Con, FEST, and sold out shows across the country.